IMPACK products are already sold in more than 50 countries throughout the world, and particularly in North America, Asia and Europe. In France, IMPACK can count on one very loyal important customer, DS Smith Packaging, a key European player in the packaging industry with 32,000 employees in 37 countries that strives for innovation and customer satisfaction.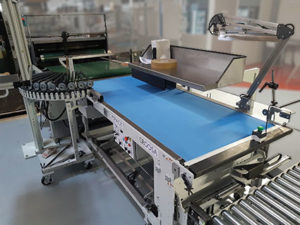 In July 2013, DS Smith purchased its first Ergosa packer for one of its production lines. It should be noted that the company offers a number of services; DS Smith produces packaging for transport, consumer, luxury and ready-to-sell packaging, as well as POS displays and personalised and industrial packaging. They therefore needed an intelligent machine that could adapt to all their needs.
"Combining the flexibility of a semi-automatic packer and the performance of an automatic one, the Ergosa series is an economical solution for optimal productivity" says Nicolas Prévot, Head of Maintenance at DS Smith.
DS Smith was so pleased with this first purchase that it again turned to IMPACK in 2015 and in 2019 when it acquired a second and third Ergosa series line. Various modifications were made to all three machines to guarantee optimal productivity. IMPACK PACKAGING has numerous options to make your Ergosa a productive packer with all the features necessary to meet the complex needs of folder-gluer lines.
Face to face with Nicolas Prévot, Head of Maintenance at DS Smith
Why do you opted for products from IMPACK Packaging?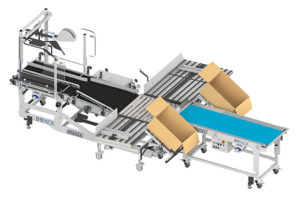 "First and foremost, we can say that it is more of a partnership than a customer-supplier relationship. For all of our projects, IMPACK offered us custom-built solutions that were really tailored to the complexity of our products – something a lot of other companies were unable to do. And beyond the innovative aspect of the machines, the equipment is also very robust and the entire team is truly professional. They supported us with every new project, from the design stage up to reaching the target productivity".
How have the machines helped to make your company more productive?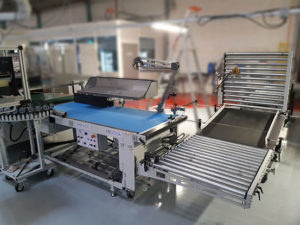 "The aim of all three projects was to modernise the collection systems that had become a little outdated and/or were no longer suited to the evolution of our products. We also wanted high productivity, especially by reducing the number of resources necessary, without reducing production speed. Finally, each new machine has reduced our technical downtime caused by collections – we have been able to cut back on one resource per shift (8-hour shifts) and we have even improved productivity for certain products. The ergonomic conditions of the different collection stations have also been improved".
Did IMPACK's after-sales service meet your expectations?
"We are really happy with the after-sales service. Despite the physical distance between our two companies, IMPACK has always been responsive and attentive. We receive a reply to all our requests and spare parts are dispatched quickly. We really appreciate the regular visits organised by IMPACK to check that everything is running smoothly with our lines".