Italian carton producer Industria Cartone Ondulato (ICO) has launched a newly optimized business model with the ability to deliver orders within hours, thanks to the successful integration of the HP PageWide C500 digital corrugated press into its production workflow.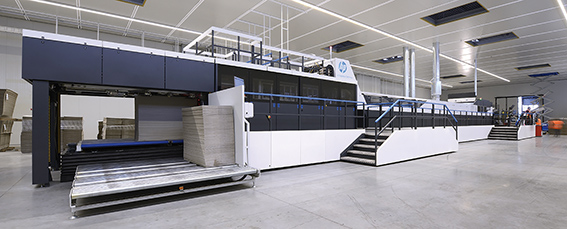 Today, ICO is operating a single-pass post-print HP C500 alongside its flexo press, as it moves to transforms its business toward a more agile production model. The press was installed in late November 2019 at its Pianella headquarters on the southeast coast of Italy.
The offset-matching HP C500 corrugated press is now allowing optimization of workload at ICO. This is achieved by moving projects requiring short runs, expanded SKUs and rush jobs to the HP C500, thereby freeing the flexo press for long static runs, while ensuring seamless conversion between analog and digital.
"Thanks to ICO's digital transformation, we are now able to offer customers faster time-to-market and flexible production batches, while keeping quality consistency across printing solutions," said Stefano Di Mattia, newly appointed General Manager at ICO. "Digital print allows us to answer to shifting needs from our customers, who witnessed their supply chain undergoing to strong stress moments, with sudden contractions and expansions, also as a consequence of the COVID crisis and further mutations in procurement models".
"Since the start of the pandemic, ICO has been operating uninterrupted to support the supply of essential goods for the Italian economy, aided by the continuous supply of inks and parts by HP alongside remote support using HP C500 Control Tower technology", added Di Mattia.
ICO is also taking advantage of the HP C500 print quality to move to higher-value, high-quality printed corrugated boxes and displays.
Company transformation started in 2018 with the installation of the Agnati (now Qcorr) Quantum² corrugator, the first worldwide machine shaking up traditional corrugating technology, allowing unprecedented process control and double wall sheet printability.
In June 2020, ICO completed the installation of the automated warehouse with controlled atmosphere that grants inventory control in a very efficient way – giving even a better service to its clients.