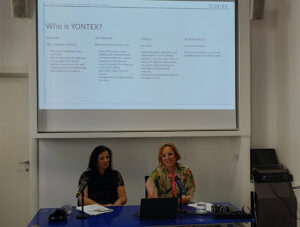 Yontex GmbH & Co. KG is a subsidiary of Messe München GmbH and NürnbergMesse GmbH. The Yontex team combines the experience and the lifeblood of drinktec and BrauBeviale. Let's remember the great team of NürnbergMesse Italia S.r.l. operating in Milan, that with professionality and creativity will follow the new company.
With these synergies, Yontex is right in the middle of the beverage and liquid foods industry and ready to open up new paths for trade and world-leading exhibitions, industry events and digital B2B formats.
This important news was announced at a press conference in Milan on 18 of July. On that occasion Petra Westphal, executive vicepresident at Yontex, said: "the two most important international trade fairs for the beverage and liquid food industry, drinktec from Munich, the world's leading trade fair for the beverage and liquid food industry, and Nuremberg's BrauBeviale, the leading capital goods trade fair for the beverage industry in Europe, have joined forces to strengthen their positions in the world market from 1 July 2023. We decided to work side by side and combine and integrate what already belonged to each other, in this way we can start a sustainable development of the most important brewing and beverage fairs, because we, as highly competent partners, can achieve even more together for the future of our industry".
The new company Yontex will present itself for the first time with the BrauBeviale in Nuremberg from November 28 to 30, 2023. Both events will be held as before at their accustomed venues, both will retain their brand names and they will be held in the same cycles as before: drinktec at the Munich Exhibition Centre every four years, the next edition in 2025, and BrauBeviale will still be held annually at the Nuremberg Exhibition Centre, as before, except for drinktec years.
BrauBeviale: you should really visit the fair!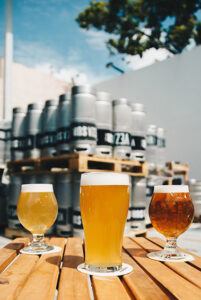 In a challenging economic environment it is important for beverage producers and brewers, as well as winemakers, to establish a solid basis for their investment programs by means of gathering comprehensive information on raw materials, new machinery, production solutions, or logistics concepts: all this is BrauBeviale, which offers a comprehensive range of products and services for the entire process chain in nine halls covering approx. 40,000 m² of exhibition space with around 900 exhibitors. 130 suppliers for packaging, closures, labelling, and secondary packaging will show their solutions to create appropriate and efficient packaging.
Support program for all visitor groups
"The supporting program will face a wide range of topics: sustainability in the light of climate and market changes; corporate profiling via sustainability; containers, systems under pressure, raw materials and marketing. But also the special areas with the Expert Forum, an exhibitor platform in Hall 4 or the Logistics Lounge, (also in Hall 4) will provide for knowledge enhancement and stimulating exchange", said Adrea Kalrait, executive director BrauBeviale. Let's remember also a perfect place for beer connoisseurs or those who want to become one is the European Beer Star, this year in its 20th edition: over 500 breweries from 44 countries are sending entries. The brewers will showcase their brewing skills and face the critical palate of the jury!