Werner left his mark on Messe Düsseldorf: corporate strategy, international outlook, state-of-the-art premises, digital transformation and financial stability. After almost 17 years as a President & CEO – and serving the company for about 37 years he is going to retire and Wolfram N. Diener will succeed him as CEO on 1 July 2020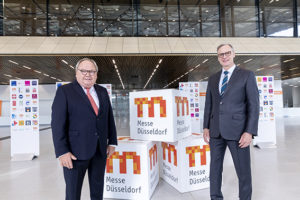 "Trade fairs are my life," says the outgoing CEO. "What we have built up together with my team over all those years benefits the company today. While conditions are difficult at present, it is comforting to know that 'my' company is in good hands. The team is already busy working on a re-start and developing further digital add-ons so that Messe Düsseldorf will also remain a successful company in future. I have made my contribution".
Profitable, subsidy-free management and financial stability are the trademarks of the Dornscheidt era. The Messe Düsseldorf Group closed with a sales increase of 28.7% to EUR 378.5 million (previous year: EUR 294 million). Group earnings after tax more than doubled in 2019 at EUR 56.6 million (previous year: EUR 24.3 million). In 2004 Dornscheidt took over as CEO of the company when the Messe Düsseldorf Group posted an ROI of 6.4% and a core capital ratio of 34.4%. Its ROI recently rose to 14.8% and its core equity ratio to 66%.
Wolfram N. Diener has served Messe Düsseldorf as Managing Director Operative Business since 2018 and will take over as Chief Executive Officer from 1 July 2020. "I am delighted at the trust placed in me. Here in Düsseldorf we boast an inimitable brand profile that can be made even more successful through the drivers that are internationalization and digitalization and we have a powerful team".
A more and more international presence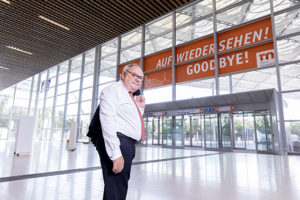 While in 2004 Messe Düsseldorf had 65 foreign representatives for 104 countries, today 77 foreign representations look after 141 countries. "The share of foreign exhibitors in Düsseldorf rose from 58% to the recent figure of 73.4% and the share of foreign visitors from 34% to 37.1%; now trade fair operations must be resumed quickly. My team is currently working on concepts for the re-start and I know it will succeed in doing so", says Dornscheidt.
The strategic re-orientation of the company spearheaded by Werner Dornscheidt decisively contributed to international growth: Düsseldorf's four No. 1 trade fairs with the highest number of events organized abroad. Dornscheidt focused among other things on the development of the Düsseldorf Exhibition Centre in terms of technical facilities, functionality, convenience and architecture. After the commissioning of Hall 1 boasting over 12,000 sm as early as autumn 2019, this year will see the completion of the new South Entrance with its 20 m high cantilevered roof measuring 7,800 sm. In time for re-booting trade fair operations in autumn Messe Düsseldorf will have a new architectural highlight.
Groundbreaker for the Digital Messe Düsseldorf
Dornscheidt also drove the further development of digital presentation possibilities. "On our online portals our trade fairs have long been in operation 365 days a year," underscores Dornscheidt. Here Messe Düsseldorf makes it possible for its exhibitors to showcase themselves and their products in a multi-media format and contact other industry representatives. Messe Düsseldorf is constantly working towards making their customers' content more attractive and user-friendly. The digitalisation of the trade fair format itself has gone hand in hand with the digital transformation of the company as a whole. "This pays off both during and after Covid-19," adds Dornscheidt.
Perfectly positioned for the future
In future, the fate of the company will fall into the hands of Wolfram N. Diener and his team. Erhard Wienkamp (Managing Director of Fair Management) and Bernhard J. Stempfle (Managing Director Finance & Technical Operations, Digital Strategy & Communication) will complete the Board of Managing Directors. Werner is convinced of the new appointments to Board of Managing Directors: "Markets are shifting, the world is getting more international, digital and complex. The Covid-19 pandemic brings unprecedented challenges. I am sure that Wolfram Diener, Bernhard Stempfle and Erhard Wienkamp are the ideal trio to steer Messe Düsseldorf through the Corona crisis and place it in pole position for the future."