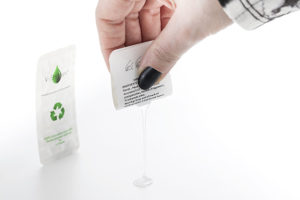 TOMRA, a producer of customized sorting solutions, confirmed V-Shapes' single-dose sachets as being constructed of polypropylene and easily detected in the waste stream for proper sorting. These unique sachets are constructed with material from a variety of sources, including V-Shapes-developed materials as well as substrate provided by Sihl GmbH that is specifically designed for recyclability and ideal for use with digital inkjet printing. The result is V-Shapes recyclable material that is also compatible with SIHL ARTYSIO recyclable functional flexible packaging films for aqueous inkjet printing, providing multiple choices for sachet configuration. Sihl not only offers a special coating that works with water-based inkjet inks, but also a multifunctional top film that, in addition to excellent printability with aqueous inkjet, also has great sealing properties to provide the best protection during the shelf life period with barrier properties matched to the product being filled.
In addition to the TOMRA verification of detectability, the independent auditing company Interseroh has confirmed the excellent recyclability of the V-Shapes 'Made for Recycling' polypropylene packaging used to create V-Shapes sachets.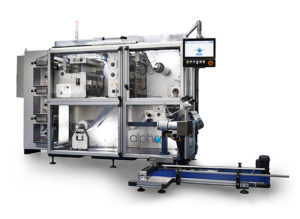 "At V-Shapes, we offer a wide range of substrate types for our single-dose sachets, depending on customer needs and the product type being filled," said Jesper Gustavsson, Business Development & Founding Partner, of V-Shapes. "We are especially pleased to be able to offer our customers a recyclable polypropylene sachet based on materials recently developed by V-Shapes which have been shown to have excellent industrial recyclability by a number of certifying organizations, including most recently sorting verification by TOMRA and certification of the SIHL media by Interseroh".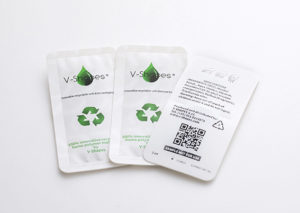 "We were satisfied with the detectability of V-Shapes sachets constructed from V-Shapes-developed monopolymer polypropylene and the ability for the sachets to be accurately detected in the waste stream using our near infrared (NIR) light detection system," said Charlotte Glassneck, Manager Plastics Applications, at TOMRA. "Even the smallest V-Shapes polypropylene sachets, which are available as small as 40 x 50 mm and 40 x 80 mm, are detectable as they are sorted in the waste stream using our detection equipment and can be accurately sorted in the industrial recycling process".
"For purposes of recycling, the V-Shapes sachets are considered rigid materials; industrial recycling centers have difficulty recycling flexible materials," said Sven Dobler, Senior Vice President of Orlandi, Inc., an early adopter of the V-Shapes solution. "We believe the ability to guarantee the V-Shapes 100% polypropylene sachets as detectable per the TOMRA tests will be a significant boost to our business and drive conversion from flexible single-unit packaging to the V-Shapes solution. The concern about waste and consumer consciousness about sustainability are barriers to the adoption of conventional flexible single-unit packaging, and our high-end cosmetics brands are eager to include this packaging concept in their offering for a more circular economy approach".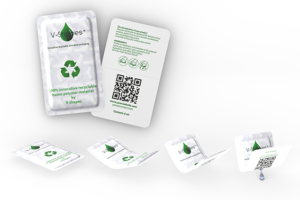 "Especially during the COVID-19 pandemic, brands, retailers and operators of large-audience venues such as sports arenas, airports and theme parks have expressed a growing interest in a more sustainable, hygienic and convenient way to dispense products in precise single-dose measures," said Christian Burattini, CEO of V-Shapes. "These sachets, constructed of V-Shapes developed monopolymer polypropylene 'designed for recycling' substrate, combined with the efficiency and cost savings associated with our vertically integrated ALPHA and PRIME converting/filling units, offer a revolutionary way of meeting those needs".