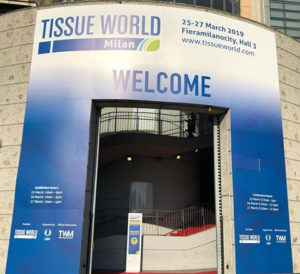 This year's event, held last march at Fieramilanocity, Milan, welcomed 3,200 participants from 91 countries around the world, with the highest number of attendees coming from Italy, Germany, USA, Turkey, UK, Spain, Serbia, and Sweden
The world's largest dedicated tissue industry event, Tissue World 2019, registered 172 exhibiting companies showcasing the latest technical developments. It also included a 3-day conference on the theme of 'Smart and Sustainable – Strategies to Stay Sharp as a New Decade Dawns'.
The conference hosted 60 speakers – including the keynote address entitled 'Creating today a sustainable business for tomorrow', presented by President and CEO of Essity, Magnus Groth. It included a Senior Management Symposium, Technical Sessions, and a Yankee Dryer Workshop. Some 276 delegates from across the industry were able to meet and network while also gaining the latest industry insights.
World tissue market overview
The global tissue business is currently in a good growth phase: the market volume reached 37,7 million tons in 2017 and exceeded 39 million tons in 2018, In 2016 and 2017 global tissue consumption grew strongly at a rate of 3,8 % and preliminary forecasts for 2018 show that the growth was weaker. Obviously, China continues to be the main driver for global growth, but also other regions are contributing as North America. Very likely in the next years the average global growth will remain about 3,5% per year, this means that in 2025 the global tissue demand will reach 53 million tons. Europe has suffered from 2009 great recession and market recovery is slower than expected; however, restructuring and rationalization with closures of small and old companies is going to continue.
Sustainability, especially focused on the benefits to the environment and solutions to fibre shortages, are among the key factors supporting eco-friendly products. And besides many new producers are entering in tissue manufacturing industry, especially in emerging countries, that will have in future high growth rate, this has created a very challenging business development. The main issue of sustainability could be an opportunity because tissue paper comes from a renewable and natural source but also a risk because consumers could perceive is as not-sustainable due to poor fibre sourcing and not enough tissue product recycling. The most important factors to improve sustainability are fibre sourcing, reducing water consumption and energy during production.