Lucart S.p.A. has announced the acquisition of 100% of the share capital of ESP Ltd (Essential Supply Products Ltd.), the leading independent manufacturer of tissue paper products for the Away from Home market in Great Britain. The acquisition has been officially effective since March 1st, 2021.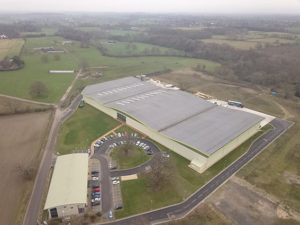 Founded in 1990, the headquarters and production plant of Essential Supply Products Ltd are based in Malvern, in Worcestershire. Today, the company has a turnover of around 30 million Euros per year. The manufacturing plant was set up in 2017-18 and is spread over an area of 77,000 sq.m., of which 15,000 sq.m. is covered. The company employs 85 people on five different processing lines. Its position, market and production type will allow important synergies to be activated with the other plants of the Lucart Group. The relationship between Lucart and ESP goes back a long way as some of the paper processed at the Malvern site comes from the Lucart mills.
The acquisition of ESP Ltd is fully in tune with Lucart's development and internationalisation plan, decisively contributing to consolidating its position as a primary player in the European Away from Home hygiene products market.
"The operation is of strategic importance for the entire Group because it allows us to consolidate our presence in Great Britain, that is the second-largest market in Europe for tissue paper products", Massimo Pasquini, CEO of Lucart commented.
"Our financial solidity and our willingness to pursue the strategic objectives of the Group, together with the awareness that the difficulties related to the historical moment we are living should not make us lose sight of our long-term vision", Pasquini added. "We have overcome even the uncertainties generated by Brexit and the COVID-19 pandemic, completing this important further step for the future development of the Lucart Group".
Carl Theakston Founder of ESP Ltd, who will be collaborating in person to facilitate the handover, commented on the milestone:
"Over the years, we have made numerous transactions to allow ESP to continue to compete at the highest level. However, I realised that the standard of investment required to make my ambitions for this company a reality needed an investor who shared ESP's family values and had the vision and desire to grow the company sustainably and to its full potential." "Lucart is a family-owned multinational group that has been operating for 68 years", Theakston concluded. "Its history, vision and commitment to sustainable development models make it the ideal investor for ESP's adventure to continue in the best possible way".