Another leading packaging company has turned to Koenig & Bauer to invest in one of the world's most productive single-pass digital presses for packaging printing. The RotaJET will be delivered during the coming year and is scheduled to commence production in 2023.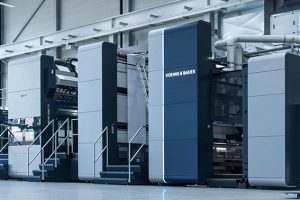 "This means we have now arrived in almost all important market segments for digital print. Our RotaJET is one of a kind, and one of the most productive digital presses on the market anywhere in the world. A glance across supermarket shelves suffices to grasp the sheer range of different types of packaging. Sustainability, time-to-market and increasingly small runs, paired with a growing numbers of variants, are the customer demands that we are addressing with the RotaJET," says Christoph Müller, member of the executive board of Koenig & Bauer AG.
More and more consumers today are not only demanding foods and beverages from fair-trade sources and in a higher quality than ever before, but also innovative product packaging.
The RotaJET is able to print on all sorts of different substrates, from lightweight paper to solid board. Packaging, decors, posters, information leaflets for medicines, folding cartons, books or even coffee bags – practically anything is possible on the RotaJET. In the field of decor printing, cut-off lengths of more than 5 metres are possible. For Koenig & Bauer's customers, this opens up a whole series of new possibilities that other technologies are still unable to offer. Digital film printing with water-based inks is another segment in which Koenig & Bauer is currently positioning the RotaJET together with a globally active partner. The production start on this press is scheduled for 2022.