The Bergamo-based company leader in the import and distribution of exotic fruits, has chosen "plastic-free" food packaging made by Smurfit Kappa Italia for their new BioPack line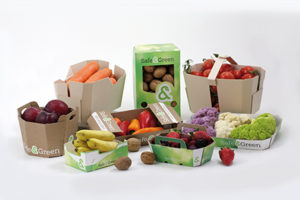 The new functional and eco-sustainable packaging solution for food products launched by Smurfit Kappa Italy last year arrives on the shelves of large retailers thanks to the partnership with the Bergamo-based company leader in the fruit and vegetable sector.
McGarlet, a company founded almost a hundred years ago and based in Albano S. Alessandro (Bergamo), has in fact chosen Safe & Green paper-based trays for their new eco-sustainable BioPack line. Since January, all the exotic fruit references are therefore packaged using the new packaging designed to perfectly integrate functionality, design, sustainability in full compliance with food regulations, made in the Romagna SKI factory in Capocolle di Bertinoro.
An alternative to disposable plastic containers still widespread but destined to exit the market, a solution reached after an intense design, research and development phase carried out by the two partners, with the aim of definitively eliminating plastic from packaging. Consumers can thus find on the counters of the fruit and vegetable departments of supermarkets exotic fruit with environmentally friendly packaging and made with biodegradable materials: precious indications highlighted through a series of infographics that inform about the correct disposal of all components. Added to this labels and transparent film, fully compostable and disposable in organic waste, developed by McGarlet with its suppliers.
Safe & Green covers a whole range of trays of different sizes, all totally recyclable in paper. All papers are FSC or PEFC marked with the guarantee that, if using virgin papers, the areas of cultivated forests are increased. As for safety for the final consumer, Safe & Green trays comply with the most stringent Italian regulations in the field of packaging intended for contact with food.
Versatility of shapes and sizes and maximum customization are two other advantages of the new line. The solutions in fact provide the possibility to print in offset or flexo customers' logos and wordings in different colors to underline their communication, and the range also includes a version made of 100% virgin birch light papers to offer an effect similar to natural wood.
Safe & Green is a concrete example of Smurfit Kappa's commitment to a greener environment, one of the initiatives of the Better Planet Packaging project, whose main objective is the design and implementation of sustainable alternative solutions to the use of plastic materials. The heart of innovation is the Experience Center in Pastrengo (Verona), where a team of designers and technicians develops ecological packs using advanced technologies such as 3D prototyping, working in co-design with customers to offer a complete service: from analysis needs to finished product for an increasingly sustainable future of packaging.