HP Indigo-enabled design freedom allows ARO to build end products that adhere to customer customization requirements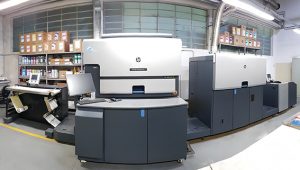 ARO was born in 1977 from an idea by Carlo Quaglia who, after years of activity in the GDO sector for the supply of furnishing accessories, sees in the advent of cash register a business for production of paper rolls. In 1979, the first machines to produce weigh-price labels were added to cutters. Today the production still maintains the initial historical items, which have been accompanied by new printing technologies and products such as decorative labels, pharmaceutical labels, sleeves, industrial panels and recently flexible film.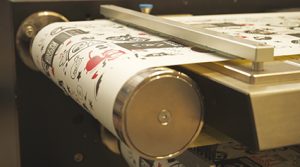 Today the company uses all the printing techniques suitable for the creation of labels, with particular attention to in-line finishing. The diversification of the machinery fleet together with the extensive know-how in different sectors, allows ARO to always find the most suitable, complete and customized solution for the customer and for all the sectors in which it operates: food & beverage, pharmaceutical/cosmetic, chemical industrial supplying both consumer products and durable labels.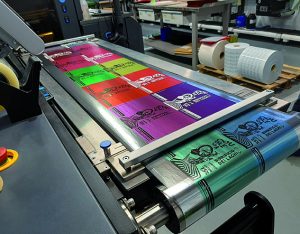 In full lockdown, ARO has reconverted some machinery and part of the production to create products and safety devices that required different levels of customization that would meet the needs of the pandemic period, while maintaining its main mission in the field of innovation, with the will to overcome the pandemic period as soon as possible and return to normalcy made up of human relationships and sharing.
It is in this period that the company decides to diversify and invest in a rapidly growing sector, food & beverage, and specifically the beer sector. A path that goes against the trend that, through the acquisition of Birrificio dei Laghi, leads ARO to be its own customer and supplier. This acquisition stems from a new way of interpreting the beer bottle, no longer a simple container, but a true marketing tool, thanks to the distinctive elements that are offered in countless variations. Each beer is a recipe expertly created by the brewmaster and the first step to give value also from a visual point of view is opting for a personalized label that also represents the intrinsic characteristics of each recipe.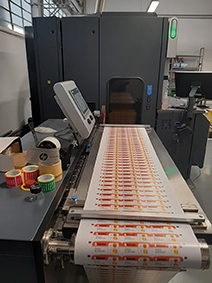 "Our goal is to revolutionize product labeling to decorate each package in a unique and distinctive way, create collections with pieces that are different from each other, offer limited editions or, simply, allow end consumers to choose designs and colors they prefer most. ARO offers a personalized service that allows – starting from an original file, which contains decorative elements, colors, writings and logos – to automatically create a practically infinite number of different labels or sleeves by varying the size and arrangement of all or only some elements", declared Alberto Quaglia, General Manager of ARO SPA
Thanks to HP Indigo 6900 digital printing system present in Varese plant, ARO was thus able to support the expansion of its activities and identify new business opportunities for customers. With HP Indigo's HP SmartStream Designer software, sophisticated and customized jobs have been realized through a simple, cost-effective variable data tool optimized for HP Indigo digital presses. HP SmartStream Designer includes exclusive plug-ins such as HP Collage and HP Mosaic that allow you to create a virtually limitless variety of designs.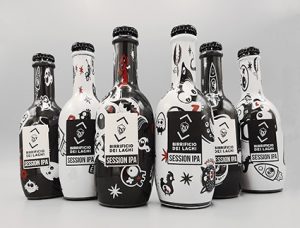 For beers that have a very specific identity, the simple chromatic decoration would have been reductive. Thanks to HP Indigo technology, Birrificio dei Laghi has been able, starting from basic files, to create infinite variations, playing with colors, graphic elements, size of images and texts and so on. Without the need to have a graphic file for each variant and without the need to work on long runs. In fact, ARO, unlike its competitors, is able to create a single sample and then arrive at the complete production, based on customer's request.
This is how new bottles were born, with a distinctive and attractive character, always different, so that everyone can choose the bottle they prefer according to their own style. A result that, using more traditional printing methods, would have been precluded to an artisan brewery, and which would have required not only a far-reaching financial commitment but would also have led to less agile planning and realization times.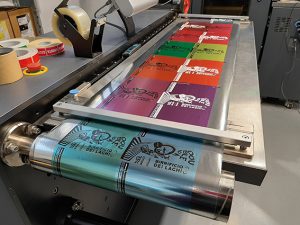 ARO, thanks to HP Indigo technology, also allows small and medium-sized companies, which have understood the importance of visual impact, to benefit from a real marketing tool to differentiate and highlight their products, giving value to the choices and tastes of its customers.
HP Indigo allows you to respond to specific needs and runs because it allows you to produce only the necessary, thus reducing waste and eliminating stocks. In line with HP's sustainability principles, Birrificio dei Laghi uses labels that are made of 15% recycled malt.