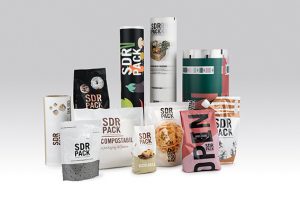 SDR PACK offers three different solutions to allow customers to use sustainable packaging: paper products, recyclable and compostable plastic, in this way it is possible to recycle them more easily and respond to the demands of a market that wants and must be sustainable. They have recently obtained the Italian patent for the innovative mono-material polyethylene films Mopek (without barrier) and Bapek (with barrier) which can be sealed with hot bars and pulses on horizontal and vertical packaging machines
SDR PACK, which is based in Rosà (VI), was founded in 1960, when Giorgio Ferracin with great foresight realized that food products would not be packed in paper for much longer, and therefore bought an extruder and then also a printing machine: Sacchettificio di Rosà, as it was called then, produced bags for sweets and knitwear. Later in the 1980s Marina, Carlo and Sandro, Giorgio's sons, developed the company to meet the needs of customers and still manage it with their respective sons Matteo Boscardin, Giorgia Ferracin and Nicolò Ferracin. Today the company is a SpA with over 100 employees and a complete machine park with extruders, flexo printing machines and laminators. The 2020 turnover exceeded 25 million euros.
Paper, plastic and compostable products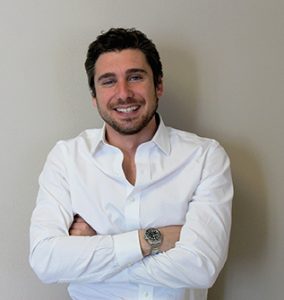 We spoke to Nicolò Ferracin, Sandro's son and commercial director who tells us that "we are working very well and are able to propose innovative solutions that arise directly from the requests of our customers: in the last three years many things have changed in the company both at a technological level and at staff level. The entire extrusion department has been updated with the installation of machines that guarantee greater production potential for processing polyethylene and therefore being able to produce Mopek and Bapek; we have expanded the department dedicated to lamination, and we are able to process paper with laser, and finally also the department for preformed bags has been renewed: the company also has a warehouse that allows you to store 1000 pallets of finished product, because in agreement with some customers we have chosen to manage orders following the logic of a smart pre-production".
The innovations do not end there because SDR PACK wants to build its new factory in a short time, where there will be even more space for the R&D department, which in any case is already fully operational and is giving excellent results.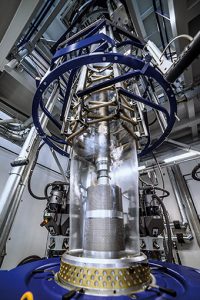 Aware that large-scale distribution and brands are looking for sustainable and different solutions, SDR PACK proposes itself as a supplier of valid alternatives, in fact "all the company's investments are aimed at our ability to work sustainable and compostable materials, we are the only company in Italy that has a weekly production of compostable films: our goal is precisely to increase the production of sustainable materials", explains Nicolò who adds that "innovating and being sustainable is also important for us economically because it gives value to our company and allows us to participate in tenders that promote innovative investments and therefore support new projects but also the expansion of production capacity and employment".
Of course, a sustainable approach is not created overnight, SDR PACK has always been attentive to these issues and therefore it was logical to identify the needs of the market and propose eco-friendly products, dividing the materials offered for packaging into three macro categories and thus becoming a real consultant for its customers, looking together for the best solution: recyclable paper and plastic packaging and compostable materials. The company entered the paper packaging sector about two years ago, but today the production for this material is already important, because it is a highly requested material. Thanks to laser cutting technology it is possible to create windows to show the contained product without additional costs for the die. Furthermore, there is no detachment of the edges of the window from the plastic film.
An important patent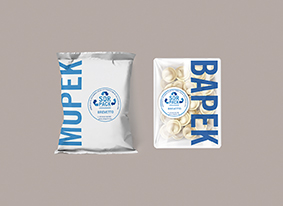 Mopek and Bapek, the new mono-material products for which SDR PACK has obtained the patent, were born precisely from the need of a customer who wanted a not-laminated film, "we took the opportunity to develop an idea that we already had on site, and we have developed them, one with barrier and the other without, they are the result of our R&D and our expertise in extrusion technologies: they are mono-film, because the production process does not require laminating, and guarantee the same technical performance of the laminated films, with the advantage that the recycling of the packaging at the end of its life is made easier, since they are made of polyethylene PE4. I underline the fact that it is possible to seal them as well as pulses also with hot bars, using a process that is usually used only for laminated materials, therefore these materials have a great potential for use also on horizontal and vertical packaging machines that work with laminated materials, because it is not necessary to make changes on the machine", explains Nicolò.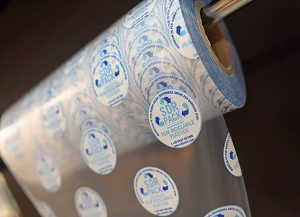 Naturally Mopek, mono-film without barrier and Bapek, mono-film with barrier (with high performance with permeability to water vapor and oxygen and almost improved compared to PET film for example), are suitable for food packaging and they can be produced in thicknesses from 60 to 100 microns, therefore perfect for frozen foods and also for fresh pasta, abandoning the laminated materials that are often used for these applications. Mopek and Bapek can be supplied printed with 10-color flexo technology, even with a matte and glossy finishing, or neutral without printing, and the company ships them to the customer in different formats: in reels or in pre-formed poches.
But how they managed to create a mono-film with these characteristics, Nicolò explains: "thanks to the cutting-edge extrusion machines that we have recently installed we can create multi-layer materials, reaching up to 5, therefore mixing the granules of polyethylene we obtain finished products that can be easily sealed even with hot bars".
The importance of certifications
The company has achieved various certifications that allow the company to work safely in Italy and be present without problems even abroad: OK COMPOST for compostable films of own production; BRC-IoP, specific international standard for the safety of agri-food products; UNI EN ISO 9001 for the quality management system; UNI EN ISO 14001 for the environmental management system; FSC for the purchase of paper in webs and the production of flexible packaging in paper and plastic film for the packaging of food and not-food products. The company uses only Green Energy Alperia renewable energy, produced in South Tyrolean hydroelectric plants without any C02 emissions.
SDR PACK and the pandemic
As for all companies, the pandemic has also changed the way of working, communicating and service methods for the Venetian company, "our strength had been the collaborators who immediately understood that these changes could become opportunities for change and be even closer to customers; this was easier because all the people are involved internally, to work better and with more satisfaction, thanks to the corporate reorganization work done in the last five years which has produced real results: all employees have been paid production bonuses linked to the company objectives achieved in 2019 and in the first quarter of 2020", concludes Nicolò.