With the installation of a SCREEN Truepress Jet L350 SAI S 7-colour, label manufacturer Sita 3000, which holds a leading position in the production of labels for industry and food, is taking its first steps into the world of digital printing.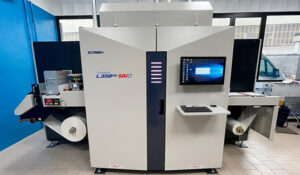 Sita 3000 has long been a respected producer of self-adhesive labels for the Italian market. Its team of 10 employees make adhesive, customised and printed labels for various sectors, specialising mostly in the food, industrial and pharmaceutical sectors. Founded in 1961, the company supplies multi-page labels, open-closure labels, roll labels, sheet labels, and continuous forms labels.
Sita 3000 has a turnover of €2 million and is growing at an average of 10% per year.
"Our customers, more than ever before, are demanding flexibility and quality at the same time. Digital printing allows us to be competitive in small to medium print runs, which isn't possible with conventional printing", says Gianluigi De Blasio, Technical Area Manager at Sita 3000.
The northern Italian label manufacturer chose the Truepress Jet L350 SAI S 7-colour press for its reliability, efficiency and print quality. The SAI builds on the technology of the highly successful Truepress Jet L350UV and L350UV+ series of machines, significantly expanding digital printing capabilities for narrow-web label and packaging applications.
The SAI technology offers much greater colour reproducibility than was previously possible, increasing Pantone coverage and reducing colour differences with specific spot colours.
"One of Sita 3000's strengths is that we have always been able to invest in new technologies, as is the case of the Truepress Jet L350 SAI S 7-colour, our company's first digital label press," says De Blasio. "Continuous innovation has been key to remaining a major player in the Italian label market for more than 60 years".
REM Labels and Packaging Solutions, SCREEN's distributor in Italy, guided Sita 3000 in the choice and installation of the Truepress Jet L350 SAI S 7-colour machine.