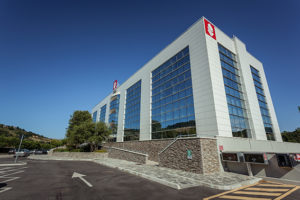 An extraordinary story behind it, and a future to be written, with the ambition to work pursuing excellence in the European flexible packaging market where SIT Group is one of the main reference players: € 160 million in turnover, around 700 employees, 4 production sites and investments for approximately € 80 million which in June will see the opening of a new factory in San Marino with 4 new gravure printing machines up to 11 colors with in-line lamination and a BOBST laminating machine
Protagonist of extraordinary commercial successes and beyond, with innovative packaging solutions capable of gathering the unanimous consent of technicians and consumers, SIT Group represents excellence in the world of flexible packaging. A story that began in the 1960s when with effort, determination, stubbornness but also the sweetness of a woman, Simona Michelotti was able, out of nothing, to create a group of companies and people, who today compete on international scenarios with strength and the safety of big industries without forgetting the values ​​and traditions typical of family companies. This is what you breathe entering SIT, a large family, headed by two women, Simona and her daughter Neni Rossini, who since 2018 holds the position of president, and an experience management led by Claudio Carattoni, who after about 25 years of business experience was called to hold the position of CEO.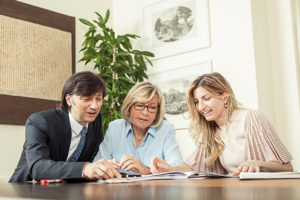 The Group's headquarters are in the Republic of San Marino, the birthplace of Michelotti family, where work is being completed for the new factory which will be inaugurated in June and where 4 new BOBST gravure printing machines up to 11 colors and a laminator are being tested. Other production sites are in Stanghella (PD) (flexo printing), Pesaro (gravure and flexo printing) and Cremosano (CR) where ACM is located, that recently joined the Group, which has completed the offer with its own production of flexible packaging in narrow web flexo UV Led for short runs, also digitally, in addition to the packaging machines for pouches.
From pasta during 60s to the most recognized food producers: SIT tells the history of Italy through its packaging
"A family friend who produced dry pasta pushed my father to invest in the packaging business at the time when was introduced the legislation that effectively imposed the packaging and related labeling of products such as bread and pasta. My father followed his advice, and headed the company to me, being the first of ten children, the only adult, so I found myself the owner of a company of which I knew nothing and which above all I never thought he could represent my future. The first years were extremely difficult, and I was forced, in spite of myself, to follow directly Rotostampa, this was the first name of the company, driven by necessity and a sense of duty, but not at all passionate in those times of this world, in which, moreover, the female presence was an absolute exception. I did not know this sector, but I was lucky enough to meet young suppliers like me, who trusted me and teachers, friends and then partners who believed in me, trained and taught me all the secrets of production process and the world of packaging", begins Simona Michelotti in her welcoming office overlooking Mount Titano, where are exhibited the beautiful works of art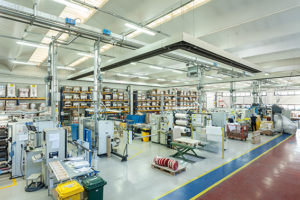 by the Brazilian contemporary artist Eduardo Kobra, who, after setting up the SIT stand at the last Interpack fair, will create a mural to tell and reinterpret the history of San Marino on the huge external wall (one square kilometer of surface) of the cylinder warehouse, with a wooden walkway in the adjacent green area from which you can enjoy the majestic work. A passion for art and finer things in life that Simona Michelotti has the pleasure of appreciating and the will to share, effectively giving an art work accessible to everyone. Small pieces of art are also the packs displayed in his office, which are the result of important collaborations with customers of which SIT is a partner in identifying and producing the best packaging solution to give value to the product contained. "Packaging reflects contemporary society, and it is a great satisfaction for us to be able to say that we have participated in the commercial successes of our customers, including products of great international fame, and contributed through the printing of packaging to spread worldwide Made in Italy food products", adds Michelotti.
Gravure and flexo printing, and now also digital to complete the offer
Within SIT, several souls coexist with regards to printing technologies. The Group was founded with gravure technology in San Marino – where for some years there has also been a department for the production of printing cylinders – and has been enriched with flexo and digital technologies through subsequent acquisitions.
"Flexo today has reached a very high technological and quality level", tells us Neni Rossini (president of SIT Group) "and the availability of different technologies allows us to understand every customer request and technical requirement of the product to choose the one best suited to needs.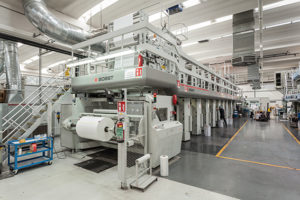 Typically, long runs and jobs that do not require frequent changes of plates are gravure printed, while for shorter runs or for packaging solutions that require frequent graphic changes, flexo is the ideal printing technology. Today, with the acquisition of ACM we also have the opportunity to offer digital printing, perfect for very small print runs and customizations", says Neni, underlining that with the entry of ACM, the Group has expanded its presence in the cold cuts sector, being able to serve the trays in addition to the top. Furthermore, the possibility of offering preformed pouches has been further strengthened, with special applications of easy opening, zip, and laser cutting.
SIT is BestinShow with the "Polpo con Patate" and will participate in the FTA Diamond Awards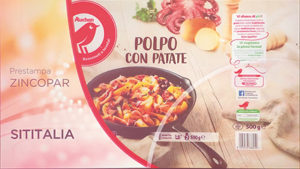 At last edition of BestinFlexo, SITITALIA (the name of the Italian company of the Group) in collaboration with Zincopar (article published in the January-February 2020 issue of Converter flessibili) won the first prize in the Medium web film, internal printing category, a package for frozen foods that has been particularly appreciated, it won also the BestinShow award, which declares the best work among all the categories in the competition. "Having won such an important award for flexo printing quality makes me particularly proud, but above all I am happy for our collaborators, who strive daily to achieve these extraordinary results and deserve all the recognition and appreciation for the competence and the passion with which they do their job", says Simona Michelotti.
This product was printed in the Pesaro factory, where flexo technology was introduced only a couple of years ago with two new Uteco machines. The operators were instructed and guided by their most experienced colleagues from Stanghella (PD), who in turn moved to Pesaro with availability and a spirit of collaboration for the training of new press operators. Having achieved excellent results in such a short time, and even having won such a prestigious award, demonstrates the very high value of the exceptional synergy and teamwork between the various Group sites.
SIT Academy and the commitment to sustainability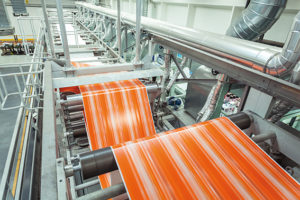 SIT Group is strongly committed to promoting and spreading an ethical culture of flexible packaging and the sustainable aspects linked to this packaging solution. "One of the fundamental principles of sustainability is certainly the fight against food waste, we should never forget this. All other things related to the demonization of plastic are topics that should be treated with caution and knowledge of the facts. At SIT we are working in partnership with brand owners and material manufacturers, on several fronts: on the one hand, the proposal of single-material solutions without compromising the shelf-life of products and on the other, research and development projects for more innovative solutions", comments Neni.
A project that in SIT will contribute to increase the culture of packaging, indispensable for knowing, appreciating and managing materials correctly is the SIT Academy, launched as a service to its customers and which is having considerable success. "We are happy to share with our customers our technical knowledge (graphics, prepress, printing …), the regulations on flexible packaging and the various critical issues that can be encountered in the packaging production process, because we are convinced that widespread knowledge and maximum transparency in partnership relationships is the basis for fruitful collaboration and best results. We have therefore prepared a series of "standard" training programs that involve our managers and experts from the various sectors, and customized and ad hoc programs tailored to the needs of our customers, all achievable both in our office – where the tour of our site is obviously integrated and so it is possible to attend the specific phases presented in the course – or directly at customer's site. Our customers recognize the great value of this service, and they are also using these contents for their inhouse company training", concludes Neni Rossini.