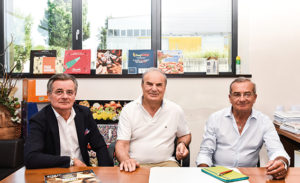 Specialized in the production of packaging for food and industrial sector, SIFA Spa, a company located in Marche Italian region, has constantly developed itself and today with 70 million boxes for pizza every year is one of the largest Italian producers of take-away food packaging. With the installation of 6-color Chroma High Tech 2100 by Celmacch, Sifa consolidates its position in HD printing on cardboard
In 2018 the company celebrated its first 50 years, because it was 1968 when Trasarti brothers, Giuliano, Vittorio and Luigi, founded it, initially to serve footwear and leather goods sector of Macerata and Fermo area. "Over the years Sifa has developed steadily and today has 150 employees and a turnover of almost 50 million euros; our growth has been constant, and now the new generation has entered the company. We are convinced that innovation is essential, above all to guarantee a future for the business. When we were born, we were a grain of sand, today we are a castle, but with a solid technological base, strengthened by the experience gained over the years and with the awareness that only changing it's possible to grow", says Luigi Trasarti.
The company's main office is in Francavilla d'Ete (FM), where paper converting is carried out, and operate  flexo machines, flat die-cutting machines, forming machines and folding-gluing machines; in the Mogliano (MC) plant, a 280 cm wide corrugator is operating, that produces 100 million square meters a year, in action also casemakers and rotary die cutters, another flexo machine and a die cutter. In 2018, the new Chroma Print HT 2100 was installed in this site. Montecarlo plant (Lucca) was acquired with La Fustella company. "Our products range includes displays, industrial packaging, multi-wave folders, cardboard converting jobs, such as pizza boxes, American boxes, self-assembling also for wine, and wrap-around, so a very wide range; our runs go from a minimum of 4000 pieces to go up", explains Luigi Trasarti.
Productivity and quality are guaranteed with the new Chroma High Tech by Celmacch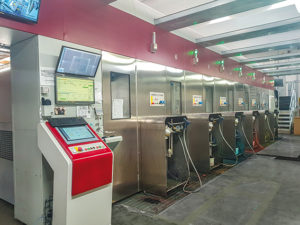 Among its customers, Sifa also includes supermarkets, GDO and wine cellars. "In these sectors – continues Trasarti – there is a growing demand for HD printing, in high definition and with more colors. Precisely for this reason we decided that it was time to make a qualitative leap in our flexo printing department, which can count on 7 printing machines, (two are Celmacch), to better meet the quality demands of our customers, and produce packaging, counter displays and other products with greater added value, even with 6-color printing. Once again, we chose Celmacch, an Italian company able to offer a proven and cutting-edge technology".
Sifa has installed a 6-color Chroma High Tech 2100 in the off-line version with a non-stop automatic stacker. This machine has been developed in compliance with the highest European quality standards. The machine is entirely built in Italy at Celmacch factory in Desenzano del Garda, guaranteeing maximum levels of reliability over time.
This is a line powered by a Favalessa loader, equipped with belt feeding with direct motors, has six printing units accessible from below during production: in fact the machine allows the operator to change job during production, thus minimizing downtime. The inking system uses a closed-chambered doctor blade in carbon fiber with the latest washing system developed by Celmacch, equipped with high-pressure nozzles located inside the doctor blade; the inking system uses a peristaltic pump and everything is managed by a PLC.
"Each printing unit is equipped with an anilox cylinder changing system so as to allow Sifa to benefit from an anilox configuration characterized by higher volumes and a anilox set with reduced volume, to work on coated cardboard and ideal for jobs in high definition and four-color process; these features are very important to us, because allow us to have an excellent quality standard on different substrates" explains Trasarti. The machine is equipped with infrared drying and hot air units by Celmacch, which allow to print high-definition jobs on coated cardboard even at high speeds. The whole line uses latest generation Siemens electronics and each component is strictly European manufactured, to guarantee Sifa the maximum productivity in the long term.
Greater automation and security working with the 4.0 approach
T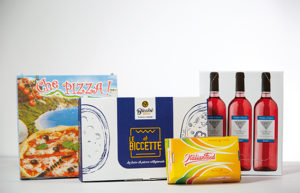 he Industry 4.0 Plan was a great opportunity for all companies that wanted to seize the opportunities linked to the fourth industrial revolution with only one goal, to spread training 4.0 and consolidate the process of digitalization of man-machine systems in a widespread manner.
Sifa, obviously with the support of an external consultant, was able to purchase the new Chroma taking advantage of these benefits. As happens in many companies that are working in a 4.0 perspective, the entire company organization, thanks to the central management system, becomes leaner with the optimization of the various production lines, with data exchanges between the plants, with a complete digital management of the production process from order placement, with simplified and safer management of the jobs to be carried out, because it allows the planning of production, the calculation of material requirements, the orders suppliers and processing proposals, the management in real time of warehouse, waste, job batches and production cycles: the result is a complete control of the progress of orders.
In this way Sifa was able to increase efficiency, reduce costs, create new forms of collaboration between producers, suppliers and customers; in-house it was activated a dialogue between machinery, systems, equipment, to serve the customer in a transparent and functional way.
Since we are talking about a company that produces cardboard products, the aspect of sustainability is important and from this point of view Trasarti has no doubts: "our packaging is absolutely in line with the ever increasing demand of sustainable products on the market, so we are not afraid of the future. In a global context, in which packaging and articles in general for shipping are fundamental and represent an important marketing tool, we are sure to have made the right choice by equipping ourselves with a machine that allows us to produce not only sustainable boxes but also beautiful to see".