FTA Europe invites the sector to the fourth edition of the FTA Europe Diamond Awards taking place on 5 May 2022, in the beautiful city of Milan, Italy on the occasion of Print4All exhibition.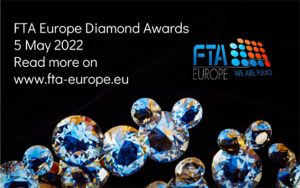 The Diamond Awards 2022 celebrate excellence in flexography, by awarding the best flexo printed products in Europe. The nominees are winners of national flexo competitions, making Diamond Awards a prestigious European flexo event where the works of the best printers of the continent are recognized.
After last year's virtual awards, FTA Europe is ready to welcome all participants in a glamorous, in-person ceremony hosted at UNAHOTELS Expo Fiera Milano, where industry representatives, trade press and flexo industry players will celebrate together.
Start your evening with an appetizing welcome cocktail, enjoy fine Italian cuisine, celebrate the achievements of our industry and end this night to remember with an exciting after party!
Book your table and/or tickets by completing this registration form.
Single tickets cost €150 + VAT, while 10-seat tables are at €1350 + VAT – an ideal choice to host your company and/or your customers.
The Diamond Awards are taking place thanks to the following sponsors: Uteco, Allstein, I&C, Koenig & Bauer, Lohmann, Miraclon, Tesa, Comexi, Siegwerk, Soma.