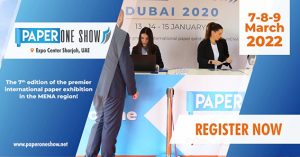 Many buyers and suppliers from various areas of the paper industry, such as paper jumbo rolls, finished products, printing, writing, tissue, and hygienic paper, converters, cartons, paperboard, and many more, who aim to improve their trade volume are getting together in Dubai, where has been a bridge between the Middle East, North Africa, and Europe.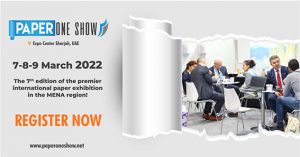 At the Paper One Show 2022, more than 100 exhibitors, including the leading companies in the sector, from 21 countries in various fields have already taken their place. Paper One Show, which is planning to welcome more than 5000 visitors from 53 countries, is being held for the 7th time this year. Aiming to be not only a fair where the latest products, technologies, and services of the industry are presented but also a real hub for the industry since it first opened its doors in 2007, Paper One Show has also hosted events such as conferences presented by industry experts. Besides networking and new business opportunities Paper One Show promises to provide a pleasant time to a limited number of industry professionals with its Gala Dinner event and world-famous Dubai Expo visit event on March 7th.
After Al Furat Fair Organizer successfully held the latest edition of Paper One Show in 2020 in Dubai, getting back together with the sector after a one-year compulsory break is not the only thing that excites the team. Aiming to bring an innovative approach to the sector, Paper One Show organizer Al Furat had announced virtual fairs in 2020 edition, and this year, the Al Furat team is getting ready to launch its brand new project at Paper One Show. For details, the team awaits you at the Presentation Area during the show.
The international exhibitions in the UAE Zone are continuing safely during the pandemic. UAE is the safe zone for the pandemic and provides reassurance and confidence for the participants in a safe environment, because Paper One Show cares about health and safety standards. The trade fair provides the highest levels of hygiene and safety at the event. Paper One Show 2022, provides unique business opportunities for all industry professionals who want to develop their businesses and hopes to welcome them on 7-8-9 March 2022 at Expo Center Sharjah, Sharjah, UAE. Do not miss the chance to be a part of this unique event.
For more information please visit: https://paperoneshow.net/
If you have not registered yet as an exhibitor or a visitor, you
can complete your registration through the links given below:
– Exhibitor Registration | https://paperoneshow.net/exhibitor-registration/
– Visitor Registration | https://paperoneshow.net/visitor-registration/
If you have any further inquiries or questions, please contact  info@paperoneshow.net