The technological developments at the Company Oppliger, market leader in the sheet-to-sheet lamination sector, do not stop. In recent months, important innovations have been presented, such as the FOX machine, an entry-level laminator affordable for everyone, the Prefeeder Mambo S3 and the automatic unflip-flop Twist S3, all machines that comply with the ordinances of the Enterprise 4.0 decree – overheating at 270 %, a powerful tool for converting and packaging industry in order to ease investments during 2019
Now Oppliger srl becomes digital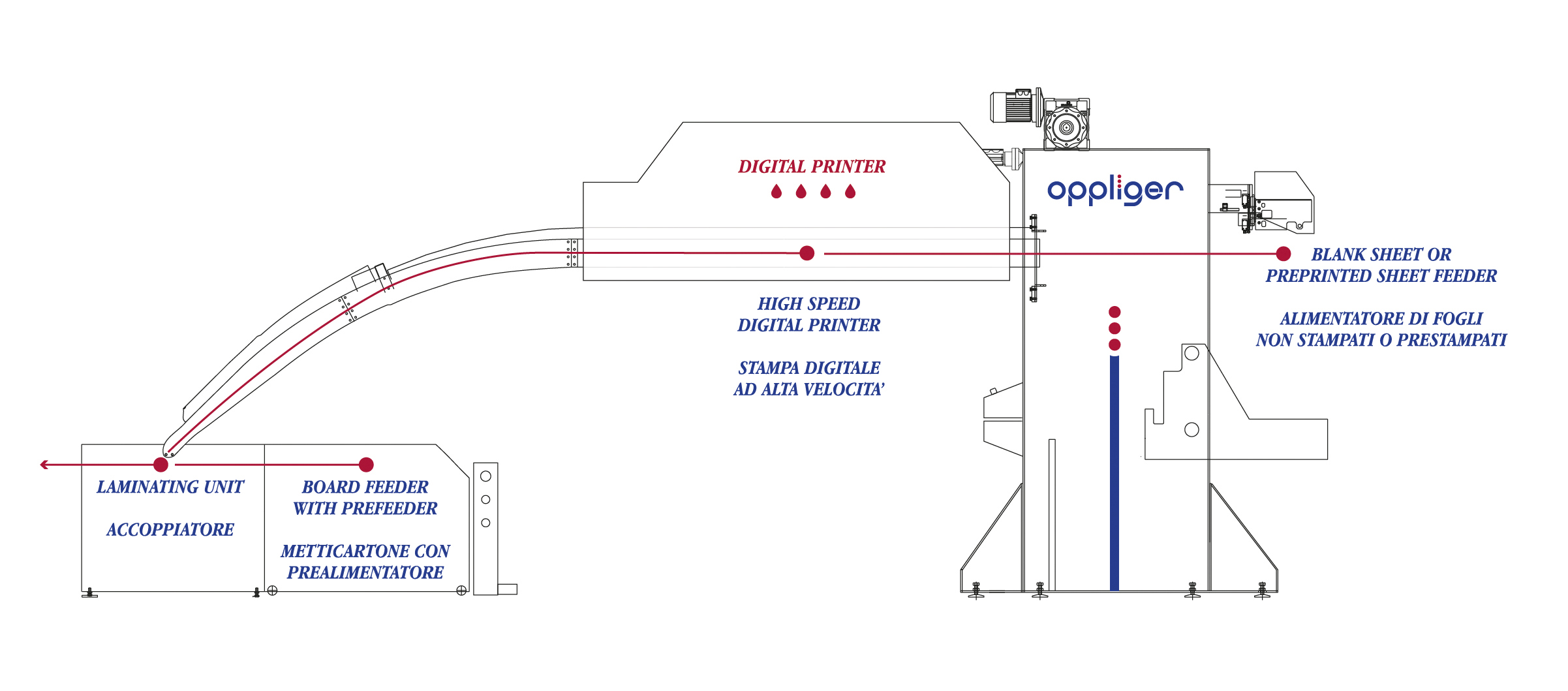 It seems a contradiction from a company that should fear the developments of direct printing on cardboard, but Oppliger has decided to exploit this new technology by integrating it with its machines. Sintesy S3 will thus see the inclusion on the transfer bridge of the cover sheets a high-performance digital printing group, making this project unique in the world and giving the user even greater flexibility.
Digital printing makes it possible to work with neutral sheets as covers and to print on these sheets just before being laminated. The advantages are endless: you can customize each sheet, add details on previously printed sheets, work on a minimum quantity of sheets per production batch and satisfy your customers in a few minutes from the request.
By digitally printing on paper or cardboard an higher quality can be achieved compared to direct printing on corrugated cardboard. In fact, there's a flat surface to work on, without corrugation and with a well defined thickness, thus obtaining a minimum and constant distance between the digital printing element and the material, as well as being able to carry out the lamination process with any support, not only the use E, F and G flutes. In fact, in direct offset printing or with the latest digital machines only calibrated materials are required to avoid the blur of the print.
"The continuous developments in our company have guaranteed us the leadership in the sector of sheet-to-sheet laminators, always following the requests coming from the market. The results confirm that we are always one step ahead of our competitors", comments Eng. Michael Raab, Sales Director of Oppliger srl.