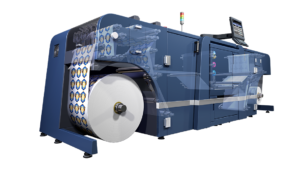 AccurioLabel 230 by Konica Minolta is the new version of AccurioLabel 190 digital label printing system, which has already achieved excellent results, allowing printers to offer their customers important advantages in terms of productivity, flexibility and stability.
Whereas the model from the outside looks identical to its predecessor, Konica Minolta AccurioLabel 190, the new four-colour AccurioLabel 230 has important enhancements. These include a significant speed increase, improved productivity, an option for overprinting, no warm-up required, less waste and more accurate print registration.
The speed, 23.4 meters/min, represents a 73% increase because most papers and adhesive substrates (including PP and PET) can now be printed at full speed. The machine can continuously print up to 1,000 meters without requiring recalibration, as well as the possibility to switch between two different paper widths (from 250 to 330 mm). Adding this option allows the AccurioLabel 230 to print seamless on media pre-printed by conventionalprinting. For example, printing on a white background.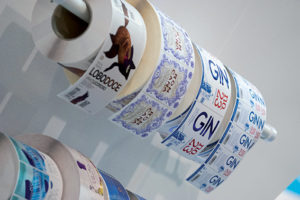 No warm-up/less waste: the time taken between jobs has been eliminated, thanks to improved idling status of the fusing unit. Equipped with an encoder that detects speed, the AL230 recognizes the feeding speed of the media, guaranteeing an extremely accurate printing step.
As already happened previously for AccurioLabel190, the development of AccurioLabel230 is also the result of collaboration with the innovative Danish company Grafisk Maskinfabrik (GM). AccurioLabel230 has also been realized with the Konica Minolta AccurioPress engine technology, renowned for its exceptional print quality and compatibility with different media.
AccurioLabel 230, already available for the Italian market, can meet the growing needs of customers for small and medium runs, customization and versioning. The new printing solution is aimed at medium-small segments and is perfect for label printers, commercial printers and packaging companies. It was developed starting from the needs of customers.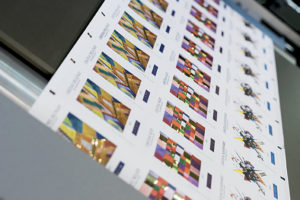 AccurioLabel230 is in fact the ideal solution for professional print providers who want to move volumes from conventional to digital printing machines or are looking for a complementary solution to balance the work of other digital printing machines. It is the answer to the reduction of print runs, to the reduction of delivery times, to customization and to versioning. AccurioLabel 230 offers exceptional productivity, brilliant image quality and surprising ease of use, making it the perfect tool for diversifying into new markets and for using existing analogue machines in combination.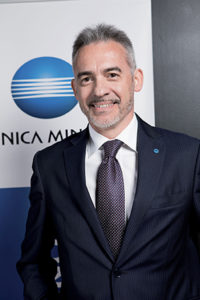 "Operators who are moving towards digital production have welcomed the launch of the new solution and have been impressed by the productivity, stability and new features that contribute to create new business opportunities. For example, AccurioLabel 230 now takes about half the time to print four 300 m/l jobs. We know that small/medium-sized label printers have finally discovered that up to 60% of existing jobs could be performed digitally, thus freeing conventional printing equipment for long runs", explains Fabio Saini, Konica Minolta Business Solutions Product Manager, Industrial Printing Italy.
"While it is true that the machine looks externally the same as the previous version, it is equally true that there are many improved features. This new model opens a new chapter of an incredible success story already started with AccurioLabel190. Just think of what important results we have achieved since we entered the label market only four years ago", says proud Edoardo Cotichini, Industrial Print Team Manager, Konica Minolta Business Solutions GmbH.