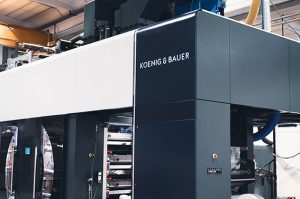 A highly successful event was the presentation of Koenig & Bauer's new Evo XC Max flexo central drum during two print events on 22 and 23 June at the company's Tavazzano (Lodi) site, seen 'in action' on a high-definition print job with water-based inks on flexible film up to a maximum speed of 400 mt/m'.
The printing section of the Evo XC series is compact with a small footprint and smart ergonomics, designed to meet THE JIT market demands for short-run production.
The handling of sleeves during job changeovers and some operations on the doctor blade chambers take place safely and quickly without the use of ladders or lifts.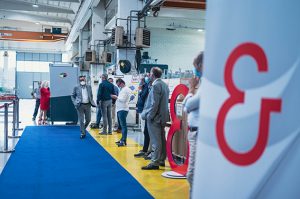 The machine on show features a max. printing width of 1100, web width 1150mm and max. printing repeat of 850mm is suitable for printing on plastic, paper, laminates and papers up to 90 g/m2 and is equipped with a very solid monolithic structure that ensures high printing performance up to a speed of 400 m/min.
The special layout with unwinder and rewinder positioned at the ends of the line allows reels to be loaded and offloaded separately, making peripheral logistics more efficient and safer at the service of the printing press.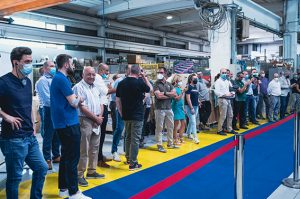 Koenig & Bauer's iconic new design combined with technological innovations lead into a new era in terms of production efficiency, running costs, energy savings and ease of operation. What are the benefits for end users: maximum accessibility thanks to touch screen operator panels assuring intuitive human-machine interaction and software applications to reduce downtime and waste during press start-up.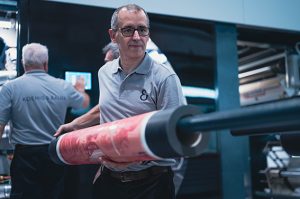 A number of intelligent and flexible solutions such as the new drying concept applied to this press improve performance with conventional, solvent- and water-based inks, while keeping the UV LED a feasible alternative and ensuring the highest level of versatility for a wide range of packaging applications.
During all phases of the demonstrations, the numerous customers were able to see the function of the new 'Dataglass' service tool, an intelligent augmented reality device supporting Koenig & Bauer customers in 63 different countries, which is also suitable for those printing with solvent-based inks.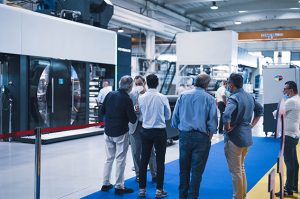 In line with Industry 4.0 solutions, all our machines can be equipped or planned with an advanced remote service tool that enables fast real-time visualization of the problem and efficient communication between the machine operator and the Koenig & Bauer maintenance or service technician.
Through the Cloud, our experts quickly connect with on-site machine personnel and provide real-time support using HD video cameras, Wi-Fi, headset and microphone.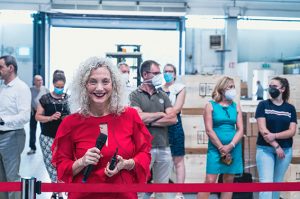 With this event, an important goal was achieved; the Flexotecnica team provided another experience that the customers, suppliers and employees of Koenig & Bauer experienced with great enthusiasm and satisfaction.