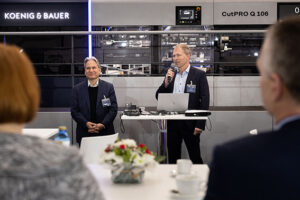 From 21 to 24 March, Koenig & Bauer Iberica opened the doors of its new manufacturing location in Gavà (Barcelona) to existing and prospective customers from the folding carton industry. More than 90 branch professionals from 15 countries accepted the invitation to attend a series of Technology Days under the motto: "Transforming Your Post-Press with Koenig & Bauer". They were, at the same time, among the first people to be given first-hand insights into the new premises occupied by the Koenig & Bauer die-cutting specialists since they relocated last year. They were able to experience both the modernised facilities and the new production processes in flat-bed die-cutter manufacture for themselves.
Not only that: the event also provided an excellent opportunity to become familiar with the flat-bed die-cutters CutPRO Q 106 and Ipress 106 PRO, and to get to know the Iberica team in live demonstrations and individual discussions.
CutPRO Q 106 SB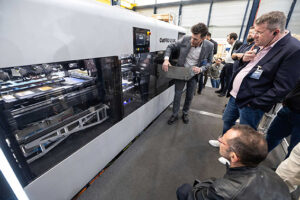 The CutPRO Q 106 SB (max. sheet format 760×1,060 mm, production speed up to 9,000 sheets/h) handled two jobs with cartons for food products and pharmaceuticals in different layouts and forms. The job changeover gave the guests a convincing impression of the fast makeready times and high level of automation (including Cut2Print register, Cut2Print PLUS register and the pneumatic quick-lock system).
The industry guests in attendance were then able to witness an Ipress 106 PRO in action processing identical jobs. This permitted a direct comparison of the two machine systems and their different scales of automation for 3b medium-format production.
The Ipress 106 PRO and the Ipress 106 K PRO (with integrated blanking) are aimed at folding carton producers who are interested in dependable, tried-and-tested Iberica technology. Equipped with the innovative DriveTronic feeder from the Rapida family of sheetfed offset presses, the flat-bed die-cutters in the Ipress series process a wide range of folding cartons in practically all fields of application.
Complete folding carton production chain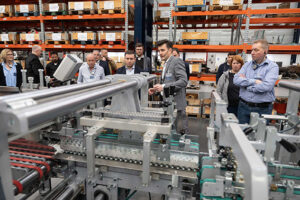 To complete the process chain and to demonstrate Koenig & Bauer's credentials as a one-stop supplier of machines and equipment for folding carton production, an Omega Allpro 110 folder-gluer could also be seen in action in Barcelona. Running at a speed of 400 m/min, it processed the freshly die-cut blanks into finished folding cartons.
Like the flat-bed die-cutters, the folder-gluers manufactured by Koenig & Bauer Duran in Istanbul offer a multitude of benefits in daily production.
Alongside the presentations and practical demonstrations, the guests enjoyed ample opportunities to discuss all the interesting details with their colleagues, both during the event and at an evening get-together. Guided tours around the historical city centre of Barcelona rounded off the Technology Days.