Small but dynamic reality in the province of Caserta, Italian Printing Inks (Ipinks) is a family business that collects the legacy of historic companies in graphic industry. 18 people, a team of 4 employees dedicated to research and development make Ipinks a company capable of listening to every single need and transforming it into ad hoc solutions for the customer, managing to meet the needs of printers and converters in different fields of application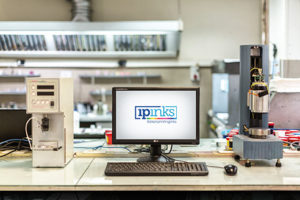 2020 should have represented the launch on the international scene for Ipinks with the presence at Drupa, where the company would have exhibited for the first time, after the first important participation in a trade fair event, that is Print4All 2018. "We were anxiously awaiting, then the Covid-19 emergency forced us to change the plans, realign the R&D projects, considering production priorities as the months of March and April were extremely hectic. Our printing customers engaged in the food supply chain, excluding a few cases in the takeaway pizza boxes sector which has undergone some slowdown, have maintained a good level of supply and high working standards. Having implemented all the foreseen precautionary measures, we continued to produce and support the customers of the supply chain", begins Aldo De Luca, general manager of Ipinks, managed together with his nephew Vincenzo, director, who deals with the commercial part, with a range of action prevalent on the Italian territory but in a phase of growth and development in the export. Commercial development is undoubtedly one of the steps that would have found a precious moment at Drupa; to increase its presence in a capillary way and further increase the quality of service, Ipinks has decided to implement new commercial policies, including also the increase and re-engineering of the existing commercial-logistic network, also looking for new representatives and agents, in order to reach further levels of growth, sought and expected.
Printing in Ipinks DNA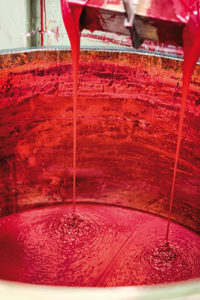 The presence of De Luca family in the world of graphic industry dates back to 1896 with the Southern Printing Foundry which produced printing fonts for major newspapers up to the 1950s. In the 1960s Diellecolor company was founded, for the production of offset inks, from which Ipinks proudly collects the baton in 2013 continuing the production of offset inks, while purchasing the production of water-based flexo inks from Central Color.
Offset inks for sheet printing and water-based flexo printing have always been the core business of the company, over the years UV inks have been added (traditional and UV-LED), inks for metallic packaging (alkyd, UV and UV-LED). In addition, the development phase of UV flexo inks and in general the entire low migration UV range for food packaging is scheduled for the end of the year.
A range of inks for every need
"As regards offset inks, we specialize in conventional low migration products for paperboard and food packaging industry, while for flexographic printing products, our focus is on water-based inks for printing of corrugated cardboard, all plastic and tissue substrates. In our range we also have overprint coatings of all types as well as all the additives normally used in the various types of printing", says Aldo De Luca, underlining that customer service is one of the key points that animates the company. "In addition, in continuous collaboration with our customers, we develop and test the products on substrates and materials on which the customers will then have to print, also formulating customized products or new personalized recipes when necessary.
Moreover, in order to stand out in an extremely competitive context, where multinational companies represent a large majority, specialization and extreme customer care are certainly winning weapons".
Research and development, strategic collaborations and the focus on water-based products
"We produce everything internally, with a fully automated production process, from the dosage to canning of finished product. The production of sample colors or Pantone offset is guaranteed by the fully automated 32-head mixing station and by the line for water-based flexo inks with 2 mixing stations. From a regulatory point of view, I believe it is important to underline that the complete traceability of the product and all the raw materials is guaranteed by the computerized management of the production datasheets, in compliance with regulation 2023/2006/EU.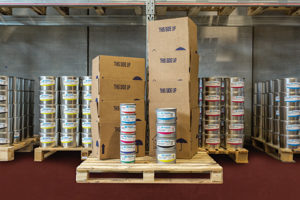 Specific series have been developed for food packaging, both for offset and water-based flexo printing, which comply with framework regulation 1935/2004/EU, BS EN646: 2006 quality standard and OK COMPOST specification based on EN 13432 standard. Finally, in 2018 the ISO 9001: 2015 certification", adds De Luca.
The company believes strongly in the future of water-based inks and is focusing its efforts on these products. For some time now, a collaboration has been active with the Department of Chemical Sciences of Federico II University of Naples for the development of new products, two specialist theses have already been presented and an active doctoral thesis, which have involved the company and the Department in the study of behavior and formulation of printing inks. On the external collaborations front, Ipinks has managed to carry out with some customers specific development projects that will have to lead these printing companies to use more and more water-based inks in the future, even on not-absorbent substrates, which to date represents an objective for many companies sensitive to their environmental impact. If for corrugated cardboard, just because of the nature of the material to be printed, the adoption of water-based solutions is facilitated, in the world of flexible film it is certainly more complicated. "Printing with the aid of solvents is certainly simpler, drying is faster and printing machines work without problems at maximum speeds. Using water-based inks on a new generation printing machine is simpler, however, having to convert printing machines of a few years to the use of water-based inks, are necessary special precautions and specific set-ups, also bearing in mind that certain services will not be reachable. The paradigm of the print job changes a little, but the results in terms of brilliance of the finished print, and even more of eco-sustainability of the industrial process, are very relevant", adds De Luca, revealing that with a customer they are developing and testing water-based inks also for gravure printing, albeit with limits that are currently insurmountable, but which in the future, thanks to the development of related materials and technologies, will be able to guarantee satisfactory results in terms of industrial productivity.
The project of digital water-based inks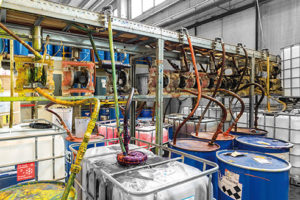 In 2019 Ipinks, always sensitive to market changes and new industrial trends, launched a project for the development of water-based digital inks, in order to be able to operate and support its customers in this market in the future "We are constantly and continuously looking for niches and new specializations that offer the possibility of important developments and that create added value for our customers and for us, such as, for example, low migration UV or digital, which today in terms of volumes do not represent important quantities, but from a qualitative point of view they represent a beautiful and necessary diversification in our company. Without forgetting, moreover, that today many printers, both offset and flexo, have acquired digital printing machines internally, and being able to provide a product portfolio suitable for all types of printing is certainly a winning competitive factor for us", concludes De Luca.