IN2FLEXO a company that develops comprehensive solutions for the flexography sector, is launching MULTICLICK: an automatic printing plate cleaner aimed at the corrugated cardboard market. It enables multiple printing plates to be cleaned without the need for operator intervention, producing an optimal result with reduced consumption of detergent and water.
"With MULTICLICK, IN2FLEXO continues its heritage of innovation in the world of flexography," said Niels Gerrits, CEO of IN2FLEXO. "MULTICLICK was developed as a recognition of the demand for increased automation to both reduce cycle time and increase profitability for flexo operations, as well as in consideration of environmental goals that drive the corrugated board market"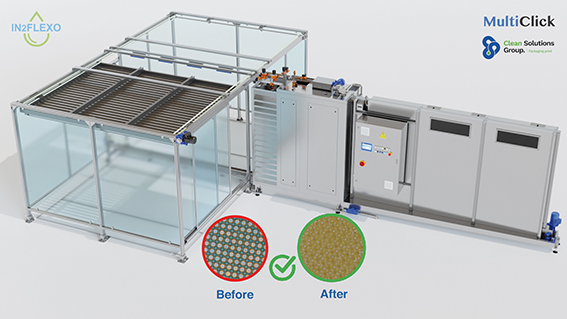 Automatic loading and unloading
MULTICLICK saves time, as it allows for the loading, unloading and automatic cleaning of up to 30 printing plates without operator intervention, meaning that you save, on average, 2 minutes per plate. As a result of this savings, and the reduced consumption of detergent and water, the return on investment is about two years.
Improved sustainability through minimal consumption of water and detergent
The parameters for the dilution and re-use of detergent can be modified in order to adapt them to each customer's situation, whether it is for quick-drying inks, two-component inks, etc.
Exceptionally Clean and Dry Plates
The quality of the cleaning stands out with MULTICLICK, as the printing plates come out completely clean and dry, ready to be stored. By keeping the printing plates clean and dry, press stoppage due to a plate that is in poor condition can be avoided.
Ease of handling
MULTICLICK features a touch screen enabling fast, easy selection of the printing plates that are to be cleaned, as well as the speed, and the consumption level for detergent and water.
Cleaning Liquid
The detergent used in MULTICLICK has the following properties:
Great cleaning performance on water-based printing inks
Noncorrosive to printing equipment
Safe in use
Low VOC (volatile organic compounds)
Fully biodegradable
Low foaming tendencies
Compatible with most water treatment systems
No symbols
Warranty and financing make the purchasing decision easy
MULTICLICK is manufactured in stainless steel, with high quality electrical components (SIEMENS or similar) and comes with a 24-month warranty. In addition, it is possible to finance the equipment over 2 to 5 years, along with the purchase of detergent, in an all-inclusive contract (machine, technical assistance, detergent, etc.).
More information is available at www.in2flexo.com