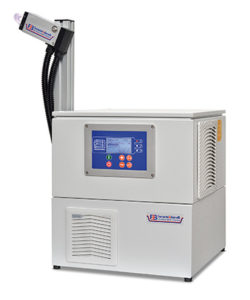 The In Air Corona system by Ferrarini & Benelli allows to improve the adhesion of inks, glues and coatings on three-dimensional plastic objects and small areas of two-dimensional plastic surfaces.
Ferrarini & Benelli has designed and developed a system, which can be integrated into the customer's production line or used to carry out laboratory testing.
The In Air Corona system treats both conductive and non-conductive materials by means of a corona discharge through airflow, and it is prefect to optimize the adhesion of inks on ink-jet printing applications, especially when UV inks are used; it also ensures codes are perfectly readable during coding processes and that labels adhere perfectly to three-dimensional objects. In addition, it makes it much easier for gaskets to bond to substrates.
The In Air Corona system is formed by a digital generator with an integrated transformer and one or two discharge heads. The generator comes with a LCD multilingual control panel, available in a remote box or integrated into the generator itself, allowing for immediate control of all available functions. These functions are stop and start, set and output power, working frequency display, discharge regulation, current overload limitation, alarms and diagnostics.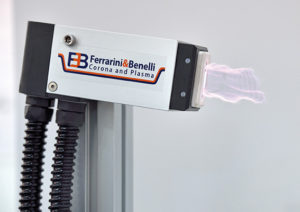 The corona head directs the discharge towards the substrate to be treated by means of airflow. The In Air Corona system allows to direct the discharge towards bigger portions of substrates, as opposed to the current In Air Plasma solutions available on the market, because of its treating width of 40 mm. Depending on the surface to be treated, one or more heads can be used.
By employing the In Air Corona system, Ferrarini & Benelli can assist their customers in choosing the best possible solutions to solve their adhesion problems, by carrying out laboratory testing on the samples they provide.
In addition to being a leader in the field of Corona treatment for 55 years, Ferrarini & Benelli is the ideal partner to solve the problems of adhesion concerning paints, coatings, inks and glues.