Presented three innovative series for flexo printing – iray, HYDRO-X and Gecko.
The UV flexo series iray is the latest series in the ink specialist's range, a complete system that provides all the products necessary for UV flexo printing. The portfolio now also includes primers, lamination adhesives as well as low-migration inks and varnishes. The products cover a wide range of food and non-food applications and are characterized by high scratch resistance, good adhesion, low odour values and high-yield inks. Besides inks and varnishes are deinkable on film and paper.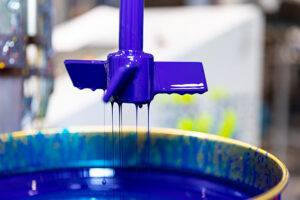 The modular ink mixing system HYDRO-X consists of ink concentrates, blends and additives that are perfectly matched and can be freely combined. This makes it suitable for a wide range of applications in flexo and gravure printing – from flexible packaging made of paper, aluminium or plastic film to corrugated board or folding cartons. As part of the HYDRO-X Green Line Premium series, all ink compositions are also available with exclusively Cradle to Cradle certified components. The water-based portfolio is complemented by the water-based coatings of the HYDRO-LAC series. Available water-based barrier coatings HYDRO-LAC GA Oxygen Barrier Coating and HYDRO-X GA Water Barrier Coating, which improve the oxygen or water and grease resistance of mono-material packaging.
The solvent-based Gecko brand, which stands for maximum reliability and good printability, completes the trio: the careful selection of raw materials and the modular structure of Gecko guarantee a wide range of applications, from food packaging made of polyolefins to aluminium packaging and flexible films for outdoor storage. In line with hubergroup's system approach, the portfolio also includes varnishes, additives and primers so that customers can obtain all the products they need from a single source. When developing Gecko, the printing ink specialist also paid particular attention to sustainability and recyclability. As part of the Gecko Green Line Premium series, the printing inks are therefore also available with Cradle to Cradle Certified® Bronze certification.