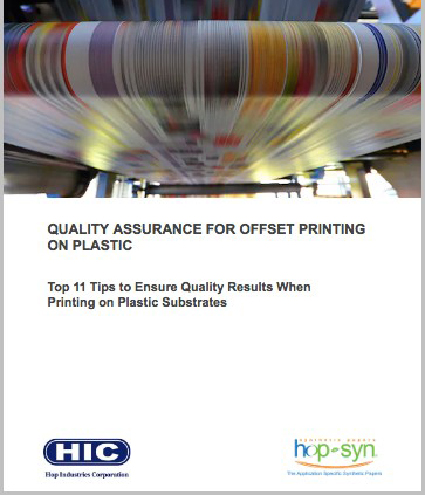 Hop Industries, manufacturer of the durable Hop-Syn synthetic paper announces the availability of a new tips guide for offset printing on plastic substrates. "Quality Assurance Tips for Offset Printing" is a handy reference guide for press operators to ensure consistent results throughout the printing process. It's possible to request a free copy of the guide filling out the online form on company website (www.hopsyn.com).
"Printing on durable substrates requires attention to certain aspects, such as humidity, ink adhesion and friction, to ensure consistent results. Our newest tips guide gives operators the information they need to keep systems in check", comments Jack Smith, Senior Vice President, Hop Industries.
Printing on plastics like Hop-Syn synthetic paper has numerous advantages, especially for applications that require durability with high impact. The guide helps press operators avoid common printing challenges relating to ink drying, color sequence, poor ink/water balance, and more.
Hop-Syn are synthetic papers to print on via offset, a printing technology which many print service providers prefer. It's also one of the top substrates specified by big brands because of the high-quality output and environmentally-friendly properties. Hop-Syn comes in multiple grades to suit every printing application such as POP displays, banners, block out and backlit signs, as well as hang tags, book covers, maps and more.
Hop-Syn® is a division of Hop Industries Corp. based in Lyndhurst, NY. Hop-Syn is a synthetic paper constructed from polypropylene (PP) resins and calcium carbonate (CaCO3), which provide extra durability and weather resistance over traditional pulp-based papers. Customers use Hop-Syn to print high quality graphics via offset litho, uv offset, flexo, screen, uv inkjet or thermal transfer equipment. Each Hop-Syn grade has unique characteristics to match the application, hence the phrase, "The Application Specific Synthetic Papers." If customers need foldability for a map, there's a grade for that. If customers need thickness for a P-O-P sign, there's a grade for that. If they need translucency for a light box or need extra opacity for a block out window sign, they will find the most suitable material.