A young and dynamic company, inserted in a very particular market, cardboard displays, historically served with traditional printing and converting technologies, Grafiche Esposti has chosen to invest in a completely digital workflow with the Durst P5 350 HS printing machine, marked by high quality and industrial productivity that works in synergy with a new Elitron cutting plotter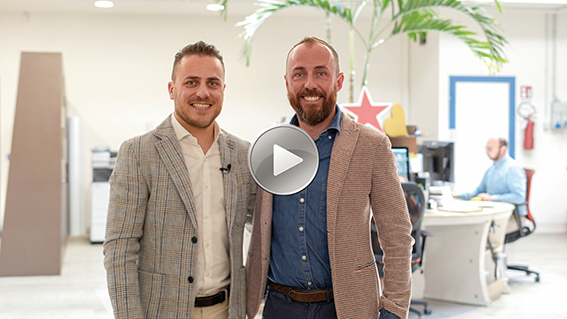 It is one of the most fascinating and intriguing sectors of cardboard converting production, where architecture, design and captivating graphics come together in a perfect mix called to stimulate that part of the brain more prone to emotional, almost impulsive, buying. We are talking about displays, pop-ups, billboards, but above all display islands in large-scale retail outlets, designed to capture consumer's attention. In fact, it has been demonstrated that a product, whether it is in promotion or not, positioned off the shelf, is more likely to attract the attention of the potential buyer and therefore placed in the shopping cart. Everything on the surface might seem simple enough, until you go behind the scenes to discover how these special arrangements are designed and made. And to discover some of the secrets hidden in the production of these special cardboard products, we visited Grafiche Esposti in Canneto sull'Oglio, in the province of Mantua. It is a young and dynamic company, with a deep culture of image and color, which has recently added a second production flow to the analogue production line, but this time completely digital, demonstrating its ability to quickly grasp market demands, focusing on new generation technologies in order to exploit every possible future development.
The culture of image in the DNA of Grafiche Esposti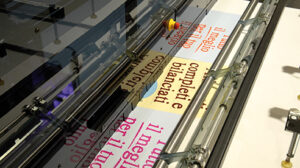 To better understand the scope of the latest investments made by the brothers Stefano and Marco Esposti, now at the helm of the company, it is appropriate to rewind a little the tape of memories. It was the '70s when their father Giovanni, who unfortunately is no longer with us today, after an experience as an advertising photographer in Paris, founded Studio E, a classic prepress company at the service of local printing companies, which were in turn committed to serve the area's thriving industry driven by the toy sector, especially handcrafted dolls. So, requests for catalogues, brochures, boxes, however starting from the shooting of the images, a fundamental prerogative for any quality printed project. With the evolution of the market, the prepress work went into a great crisis, as did the doll industry: today remain only beautiful memories of this activity after the export of productions to China. Thus, thanks to the advent of Stefano and Marco, it was decided to change course, approaching a sector still in its infancy but with great potential.
We are in 2000 and Grafiche Esposti is founded and begins to take its first steps in the world of cardboard converting and promotional displays. The first investments in 100×140 offset printing technologies, manual laminator and the first third party orders allow the young Esposti brothers to acquire the skills necessary to build a technical background that today makes them one of the most performing companies in this sector. Then follow other investments in automatic technologies such as the laminating machine, the die-cutter, the gluers, which allow Grafiche Esposti to make the definitive leap in quality, supported by a first-rate graphic and photographic office.
A complete service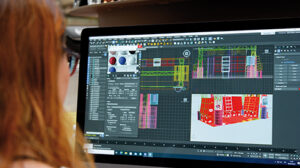 "Today we work 100% with direct customers and brands, including important multinationals, which we can support in enhancing the image in the store, starting from the graphic design. Starting from a simple brief, we create virtual proposals in 3D and then real mockups that we produce internally", tells us Stefano Esposti who takes care of the commercial part.
In the beautiful pre-press department of Grafiche Esposti there is also a photographic set with the reproduction of a large-scale distribution shelving, to check in real time the performance of a product directly on the shelf. In addition to the cardboard displays, in fact, Grafiche Esposti also produces boxes, to which it combines the co-packing and filling service of the displays to be sent ready to the points of sale.
Analog or digital? Why choose when you can make the best of both?
Today Grafiche Esposti has a consolidated know-how and a great vision for the future. Many young people work in the company, both in the offices and in production, for a total of around 26 collaborators capable of generating a turnover of around €9 million. There are two production plants: the historic one where, in addition to the offices and the graphics department, there are offset and digital printing lines, and a second one, located a short distance away, which houses the warehouse for raw materials and finished products. Furthermore, all the transformation operations of the cardboard and the gluing of the exhibitors are carried out here.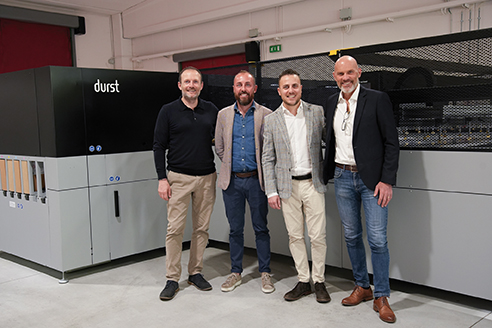 "Speed of response and customer service are our hallmarks. Therefore, when we had to decide which path to take last year, we had no doubts and chose to implement a digital printing and cutting department", intervenes Marco Esposti who takes care of the technical part, with a specialization in the creation of display structures. "Our consolidated know-how in prepress allows us to further optimize the performance of digital printing, which is already more efficient than traditional methods because it does not require makeready. It is well known that with digital, when the file is ready, you can move on to production, where the first copy that comes out of the machine is already good. Our culture of years of prepress work allows us to prepare the file in an optimal way and therefore to send the new Durst P350 HS a perfect file for printing", adds Marco.
The market trend towards ever smaller production lots, characterized by numerous changes of graphics, prompted Grafiche Esposti last year to invest in a completely digital production process to complement the already existing traditional department. The choice fell on two top-of-the-range solutions, both for printing and converting, aimed at a perfect integration between analogue and digital with the aim of getting the best out of both production lines.
Durst P5 350 HS for high quality printing and Elitron Kombo TAV, double head plotter, for digital converting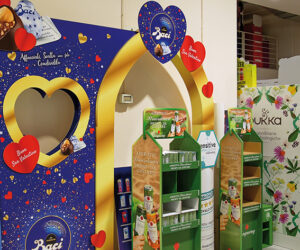 Durst P5 350 HS is equipped with Automat, board feeding and stacking system; seven color channels and it is also possible to add an additional channel for varnish. Specifically, Grafiche Esposti has chosen the configuration with Light Cyan and Light Magenta to offer better shades especially in light tones and for skin. Extremely flexible, in addition to cardboard, Durst P5 350 HS can easily handle other materials printable with UV inks, for any development that the company wants to undertake. Designed for automated use in the absence of the operator, the Durst flagship is equipped with proprietary software including the Durst Workflow RIP which allows you to manage files right from the pre-press phase by connecting directly to the company management system following an industry 4.0 perspective.
As regards cutting, a plotter equipped with automatic feeding and stacking system and double head was chosen for maximum productivity, capable of managing the workloads coming from the printing machine to offer maximum process automation.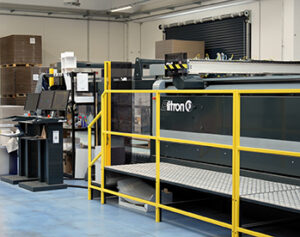 "We have chosen two top-of-the-range technologies to guarantee our investment over the next few years. As far as printing is concerned, since we are digital neophytes, we wanted a technology that could help us free up workloads from offset printing, which is particularly burdened by small productions, while maintaining the same level of quality. Everything that would have come in addition we would welcome with positivity, but in any case, with an already certain volume of work for the new digital printer; Durst P5 350 HS particularly satisfied us for the color rendering and for the type of ink; we wanted a product that limited the satin effect typical of UV as much as possible, and Durst pop-flex ink fully satisfies this need", adds Marco Esposti.
"Companies like Grafiche Esposti, which approach digital printing by dedicating care and attention to the preparation of the images, are able to obtain from digital printing chromatic yields, shades, soft tones absolutely in line with, if not superior, to offset printing", comments Alberto Bassanello, Sales Director Durst Italy.
"The consultancy provided by the Durst team and by Alberto Bassanello went well beyond the presentation of the machine's performance, allowing us to understand the production cost of a single square meter with extreme precision. Information that has allowed us to rely on Durst with great confidence", concludes Marco.
Speed of response and timeliness in deliveries, ability to serve the customer in emergencies, the possibility of managing a part of the production digitally and then ending with the classic traditional die-cutting, but also samples and small productions, are some examples of the great flexibility that now characterizes the offer of Grafiche Esposti.