Fujifilm will highlight the Jet Press FP790 digital flexible packaging press, via a demonstration run live from Fujifilm's beta customer in the UK. The Jet Press FP790 features water-based inkjet technology, making it suitable for food packaging production. Let's remember that Fujifilm Graphic Communications announced that its upcoming Jet Press FP790 digital inkjet flexible packaging solution will feature a unique Smart Digital Front End (DFE) and unified workflow solution developed specifically by Hybrid Software to optimize productivity and output of the Fujifilm press. This new Smart DFE for Fujifilm's FP790 press, is the first of its kind to be developed by a software company for use in the packaging market, and is a result of a close working partnership between Fujifilm's Research and Development team and HYBRID's specialist software developers, forged during the early stages of the Jet Press FP790's creation.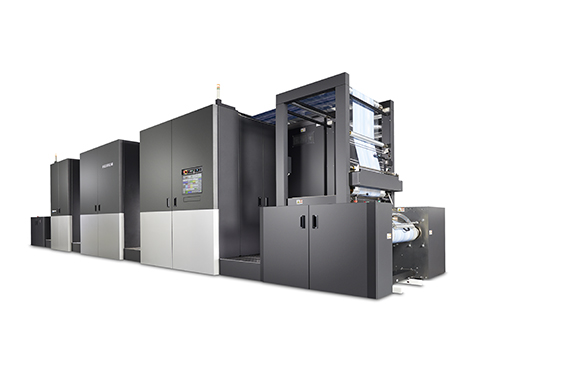 Revoria Press PC1120, toner-based production press, features an advanced print engine with 10 colours, including gold, silver, white, pink & clear, easily configurable in six before and after CMYK stations. The press uses Super EA-Eco Toner*, with micro scale particles which are both 20% smaller and have a 20% lower melting temperature than typical alternatives. This lets it print a broader range of media including plastics and synthetics, offering access to the packaging and labelling markets.
Samba 42000 Printbar System, the single pass 42K Printbar System, is built to the desired print width by using as many Fujifilm Samba printheads as needed to meet production needs. The system's flexible print width enables customers to print anywhere they desire across the press web. As a result, there is no need to reposition individual print bars or manage stitch zones as jobs change. The 42K imprinting bar system is suitable for folding carton, corrugated packaging and other industrial applications.
Launched at interpack earlier this year, Fujifilm's new range of LED IDFC (low migration) inks and varnishes will be showcased on the stand. Available in a full spectrum of colours, the new ink set is designed for the label and flexible packaging markets where migration is a key priority, such as food applications, and is fully compatible with a wide range of commonly used label stocks and packaging materials.
Fujifilm will be imaging its Flenex FW live on the stand to demonstrate the speed with which these water-wash plates can be made.  Utilising a Luscher XPose! 330L platesetter and C-Touch processor, Flenex FW plates provide the highest print quality and productivity, while significantly lowering the cost-in-use compared to thermal, solvent or other water-wash plate technologies, with total platemaking time under 40 minutes.
Fujifilm recognizes that as well as looking for solutions that improve business performance, modern label producers and the brands they serve are also looking for solutions that are right for the planet. That's why, from cutting waste, to reducing energy use, to improving recyclability, sustainability is one of the threads that links all Fujifilm packaging and labelling solutions, from analogue to digital.