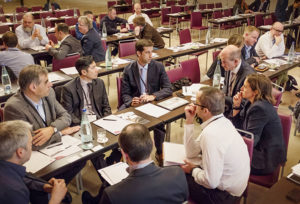 The one and a half-day seminar – in English – is designed to help companies understand the added value of technology on their products and what techniques can be used to improve their organisational efficiency, customer service and profitability. Papers presented will show from a technical standpoint new features and requirements in printing, converting, and processing that keep the labelling industry moving forward and help to add value in the supply chain.
Technical community
The biennial seminar brings together all levels of the technical community, from R&D or production to technical directors and executives, to network, learn and discuss the topics at the forefront of the European labeling industry. This year's sessions will take attendees through a wide range of topics that address the central day-to-day issues converters and industry suppliers face, in addition to the drivers and key trends that are reshaping our market. Some of the seminar session topic highlights include:
Digital, Flexo or Hybrid?
Digitalization is changing the future of the label industry. Innovative digital or digitalized printing and converting technologies are explained in detail, focusing on pros and cons and comparisons. The most knowledgeable industry experts confront on performances and opportunities. Main
topics on display are current & future challenges and new technologies in flexo, digital automation in analogue converting and flexo, current & future challenges and new technologies in Digital Inkjet
inks, hybrid, and new Digital and Analogue Embellishment solutions.
Going big on regulatory affairs, sustainability and adhesives
This edition will cover a wide range of hot topics in the area of regulatory affairs and sustainability. There will be a focus on food packaging with presentations on risk assessment of pigments for food contact applications, an update on UVFoodSafe UV ink, and food contact regulations for ink, followed by an introduction to sustainable label markets and presentations on various solutions in this sector.
The second part of this parallel session will focus on adhesives and adhesion. After a general overview on adhesive technologies and coating methodology, smart and sustainable solutions will to create the future of the label industry will be presented.
Economic comparison between technologies
The economic consequences of technical choices are a risk or opportunity for the "digitalized" label converter. New technologies enable new production and business models. A wider scenario of business opportunities, and related TCO/ROI programmes are confronted to develop a common understanding of the new value creation in the Label industry.
Innovation is key
The keynotes on the second day are all linked through innovation. First up is a broad overview of the production of PMMA as well as its processing into a wide variety of semi-finished products, particularly films with thicknesses in the 50 – 1000 μm. Then HERMA will present their newly developed InNo-Liner system which enables labelling without liner, followed by Ecoleaf of Actega Metal Print, a sustainable metallization technology that significantly reduces the amount of material, waste, cost and production time for creating decorative embellishments. The seminar will be concluded with the Powerdrop, a process that has been developed to enable non-contact coating at high speed and low waste.
For more information, visit https://www.finat.com/events/finat-technical-seminar-2020