The Digital printing, increasingly one of the different Uteco Group' s development strategies and focus, meets a team of printers, specialized in the worldwide installation traveling the world for the start-ups of the new Sapphire EVO models.
Just returned from Japan after the highly successful installation of a Sapphire EVO machine, the Uteco branded digital /analog hybrid machine with Kodak's Stream Inkjet technology, we interviewed Damiano Dalla Gassa, a printer specialized in digital for a pleasant 360° chat on the potential that Uteco-Kodak technology that  can provide to all  worldwide Converter to differentiate their products in the existing packaging printing market.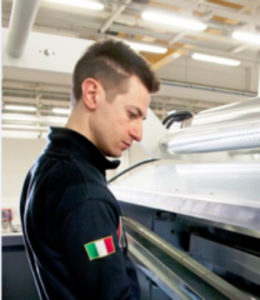 Damiano Dalla Gassa, 34 years old, is a graphic designer who has been working for about 20 years as  specialized printer.
Trained at the San Zeno Institute in Verona, at first as an operator then as a technician, thanks to a long and tiring, but highly educational path, he was able to approach the world of work with great speed, also thanks to the valuable assistance of  different professionals with which he came in contact learning all the "tricks of the trade".
After 11 years,  as an executive graphic designer for famous Italian brands, Damiano decided to face a new challenge, of course  remaining in the same field. The world of printing, at the beginning approached "indirectly2, was a pleasant discovery. "I was closely involved and willingly accepted to start from scratch" getting my hands dirty " finding excellent teachers too.
How did your work change in recent years and what is Digital Print nowadays?
"Digital printing has distorted my work; I jumped at this opportunity as soon as it came up, and I'm happy. This has given me the opportunity to combine my recent experiences on printing machines with my know-how on graphics, in a combination that is giving good results. Digital is high quality at low costs. A quick, versatile product, suitable for different applications; a smart technology, term in vogue in recent times. Digital is the possibility of offering the Customer a unique product in a short time, which meets the needs of the market in terms of marketing and numbers".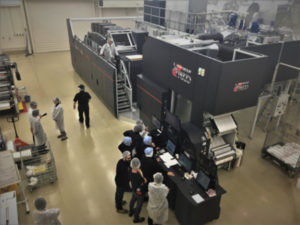 In Uteco you are perhaps the most expert in this process: how did your work change with the first Sapphire EVO?
"Since 2015 we all became experts. I am proud to be part of an ambitious and motivated team that works compactly to pursue a common goal: to be a leader once again. Each of us, in his own way, has started to cheer for this product. We have recently completed an installation and that gave us a really great satisfaction".
During next Drupa Show Uteco Group will present Sapphire EVO W and you will be the one to make it work: what expectations do you have?
"There is a lot of expectation and excitement in the air, mine above all. It will be a great event that we particularly care about, a showcase that awaits visitors from all over the world. The main focus will be digital: what better way to present the latest addition? Let's not forget that Uteco is not just inkjet printing, there will also be important news in all other technologies, flexo,  roto, coating & laminating".
In your opinion is it possible to integrate traditional printing with digital one?
"Of course integrate yes,  but not replace! Traditional printing will always be present in our daily life: it will be up to the converters to direct the orders based on the type of work with the possibility of expanding their portfolio with the most different applications.
Having a digital machine means "being able to choose" by offering customers new creative solutions with the guarantee of the final result. Sapphire Evo in fact guarantees high quality high speed printing (the fastest among current digital solutions), a flexible and totally green concept, with eco-friendly water-based inks.
The interest is more than ever alive, there are many companies that want to touch this reality and anticipate all their Competitors  at the starting line".
A tip for those who approach the Digital world
"First of all, passion to which I add effort and dedication, completed by some specific requirements relative to prepress, starrting from file analysis to color management. Mission not impossible for all "traditional" printers who want to take on this challenge".