Whether Digital, UV Flexo or Hybrid: with Hapa's new evo+ family, every printing process for blister foils is now ready for a Smart Factory environment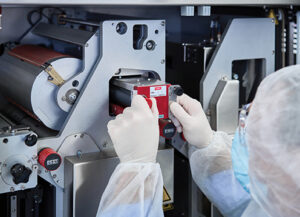 Inline and on-demand printing of blister lidding foils and other web materials for the packaging of pharmaceuticals, optimizes the utilization of production lines, increases agility, and significantly reduces the costly storage and waste of pre-printed materials. All three printing technologies are now equally equipped for use in a Smart Factory environment. Furthermore, digital transformation is enhanced via the introduction of a simple digital process from PDF to pack that cuts out multiple steps in the graphics chain.
Following multiple interviews with users and service technicians to collect improvement ideas, the evo+ family now incorporates significant advantages compared to previous systems. OPC UA is standard for easy integration into higher-level production systems, a smart interface and numerous mechanical features further optimize ease of service and operation, significantly improving the user experience and machine availability.
The perfect solution for unpredictable batch sizes
The new H382 Hybrid printing system from the evo+ family will be on show at PACK EXPO 2022 at the Coesia Booth 2501 – South Hall (23-26 october) in Chicago.
This technology is unique in so far that it allows users to select the optimum technology or combination of technologies to suit ever-changing production requirements. Large batches can be economically satisfied using the Flexo technology while small volumes can be printed 100% digitally. And, the digital module is used in every case to print the variable data, significantly improving legibility, safety and set-up time. Finally, the system offers the ability to perform primary pack serialization, thereby providing futureproofing for packaging lines.
This printing and inspection system is the perfect choice for unpredictable batch sizes. Thanks to the new, fully integrated, pre-validated package comprising printing and camera modules sharing the same end-to-end PDF workflow, the time required for set-up and validation is reduced significantly. The H382 runs at double the capacity of the previous models with speeds up to 35 meters per minute.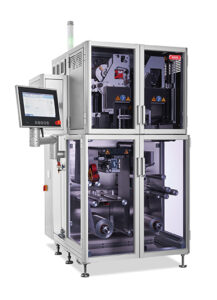 UV DOD ink can be refilled during operation, with no need to stop the line. Changing the print mats and the UV Flexo color takes less than a minute, speeding up changeover significantly, compared with pre-printed materials. Maintenance is simplified, with the ability to remove and swap major components of the system in minutes. Meanwhile, the Optimate HMI sets new standards in simplification of setup for the print and inspect functions, while improving user experience and compliance.
Specially developed for the life science industry
The evo+ family not only includes the H382 Hybrid, but also the Digital H380 and the UV Flexo H302, all of which offer specific advantages. The three machines were specially developed for web printing applications in the life science industry; they meet all of the regulatory requirements to provide a compliant well documented solution. All printing systems in the evo+ family are designed for inline printing and come as standard in top (T) and stand (S) versions for direct inline integration into packaging lines. They also come packaged as roll-to-roll (R) configurations allowing in-house offline packaging material production where required.