Ferrarini & Benelli, Italian leading company in the design and manufacturing of surface treatment systems improving the characteristics of adhesion of many substrates, has devised the perfect solution for narrow webs and labels.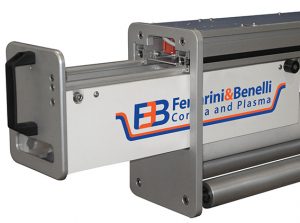 An increasing number of label manufacturers need their production lines to be equipped with surface treatment systems suitable for specific needs, such as the elimination of waste material – as futile as it is wasteful – the reduction of start-up times of their machines and the creation of unique labels. More technologically advanced and characterised by special processing, labels are even able to provide customers with valuable information about the product or come with anti-tampering and anti-counterfeiting systems.
The ET 98 treatment system developed by Ferrarini & Benelli is marked by great flexibility and can be installed on narrow web printing presses designed to be combined with a wide range of printing and finishing technologies. Examples are UV flexo, water or solvent based, rotogravure or offset printing as well as specific finishing techniques, such as embossing, aesthetic lacquering, varnishing and protective lamination.
Narrow web treatment maximises treatment efficiency across the entire web and ensures top wettability and ink adhesion to the surface of the material.
ET 98 is equipped with an open-cartridge system facilitating film threading and, owing to the small size of each component of the system, installation on the customer's production line is effortless.
The discharge roller is coated with a conductive ceramic coating, which improves the frictional performances of the system and ensures excellent treatment results.
ET 98 comes with a generator with digital control system and multilingual communication display. The system regulates treatment power according to the line speed while also displaying the discharge density and the value of set and delivered power.
A compact, flexible and adjustable system, ET 98 is perfect for the needs of high-quality labelling and packaging manufacturers who want to maximise production efficiency by increasing ink wettability and adhesion to their material, while also reducing waste, time and costs, and upholding high quality standards.