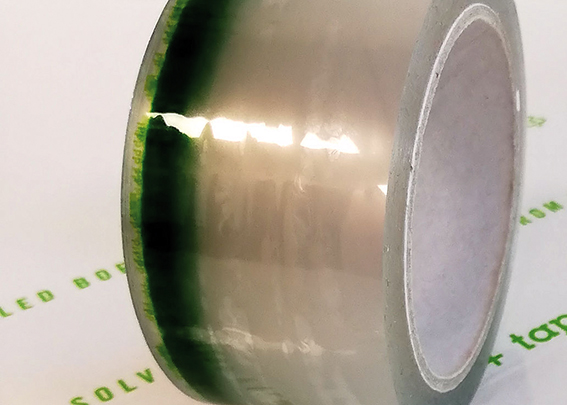 ECO+tape is the new sustainable adhesive tape by Irplast: to the functional advantages (strong tack and long-lasting adhesiveness), it combines the "green" ones deriving from the reduction, equal to 18% of CO2 compared to a standard tape of the same type (analysis regarding the BOPP film used). ECO+tape is made with 34% bi-oriented polypropylene film produced and re-granulated in-house.
ECO+tape is a solvent-free self-adhesive solution only 28 μm thick – with a recycled cardboard core – designed to be easily applied to any packaging and to guarantee a strong seal. Available in a transparent version, ECO+ tape is also printable, with customized text, colors and graphics.
Thanks to a strategy focused on sustainable development, which involved all business processes, Irplast continues to invest in innovation. Reduction of thickness, replacement of raw materials of fossil origin with others deriving from chemical recycling or from renewable sources, introduction of wash-off adhesives and special inks to avoid contamination and reduction of harmful emissions in production (cracking) and disposal of the film, are the most recent achievements. The implementation of modern cogeneration plants, to autonomously meet the energy needs, completes the green profile of the company.
Irplast is one of the largest producers in the world of simultaneous bi-oriented BOPP films, for the production and printing of adhesive tapes, labels (for food, beverage, dairy, personal & home care markets) and multipack solutions. First in Europe in its sector to have installed a line (LISIM) for simultaneous stretching for the production of BOPP films, today IRPLAST is the first European company to produce bio-based polypropylene and PCW films on a large scale.