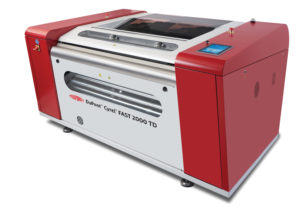 DuPont Advanced Printing (DuPont) is proudly celebrating 45 years of innovation for flexo customers with almost 20 years of exceptional product launches that continue to support environmentally friendly printing. In line with our committed focus on developing sustainable solutions, DuPont will launch an upgraded version of the award-winning DuPont™ Cyrel® EASY plates for the paper segment.
The upgraded DuPont™ Cyrel® EASY paper plates are mid durometer digital plates that feature built-in flat top dot and are developed especially for the paper printing application. The plates have been designed to achieve the highest quality image reproduction on both coated and uncoated paper with a single plate offering.
"The new versions of the DuPont™ Cyrel® EASY paper plates provide several benefits to different users. In the plate room, a single plate can be used for printing on a variety of paper substrates. In the press room, innovative converters can look at cost savings without compromising on print quality. Further, brands can now explore recycled and other environmentally friendly substrates for packaging with almost no limitations to printing complex colors and designs. This makes the brands more appealing to consumers who increasingly demand sustainable packaging solutions," said Ellen Richter, Marketing Communications Manager, DuPont Advanced Printing – Europe, Middle East & Africa.
While flexo plates can play a role in enabling environmentally friendly processes in printing, solvent-free thermal processors provide the foundation to process these plates sustainably and deliver best performance. DuPont was at the forefront of driving thermal processors almost 20 years ago, when it pioneered a shift away from solvent to thermal processors. At Labelexpo 2019, DuPont will showcase the advantages of its latest generation of Cyrel® FAST thermal processors, which reduce VOCs (Volatile Organic Compound) by more than 99 percent, significantly higher than several first-generation systems in the market today. With more than 1,000 global installations in a variety of sizes ranging from small to large, DuPont's experience in eco-friendly thermal processing and developing round top and flat top dot thermal plates that deliver highest performance is among the leaders.
In addition to providing the sustainability benefit of eliminating the use of solvents, DuPont's Cyrel® FAST thermal processors improve productivity by having thermal plates ready 75 percent faster than solvent plates. Further, the latest generation of these processors enable even higher uptime, thanks to lower maintenance requirements versus the previous generations and other systems available today.