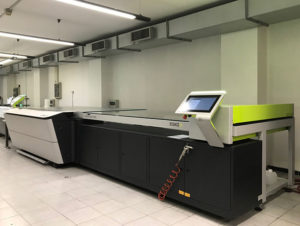 Digital Flex  announces to have redoubled its production line for  Flexo HD Plus® S plates, after a year from the installation of the first plant. There are now, therefore, two systems with the combination – for each one – of the Esko CDI Crystal flex laser system + the XPS exposing unit and the Print Control Wizard software.
"Flexo HD Plus® S plates production has won many customers and two of them changed their production process for this new technology", comments  Andrea Vergnano, Senior Executive Vice President. "We saw, when printing curves are defined, it is simple and quicker for the printer to reach the colour proofing with a result more and more similar to rotogravure quality".
The configuration of CDI Crystal + XPS and the Esko Print Control Wizard software represents an advanced flexo process, enabling to automate the plate production and gain a constant quality in only one step. With the Flexo HD Plus® S solution – registered by Digital Flex – is also possible to reach smaller and more stable minimal dots, and more  fluid shades. "We have been successful in developing a flat top dot even smaller than our Flexo HD Plus; this dot enables a more efficient ink transport and greater stability in high print runs with cleaner minimal dots".
Digital Flex was already respected in the market for its high quality standard, and now even more, because the precision of the prepress product has been further enhanced and  grants – as a consequence – an improved printing quality. "We have considered this investment as a powerful tool to make a client a faithful customer", concludes Andrea Vergnano. "For our customers is now easier to reach a highest quality in flexo printing  and  manage to compare more and more their flexo work to rotogravure".