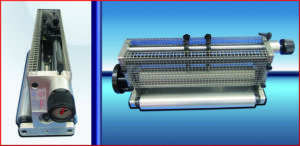 Is it possible to cut ultra-thin materials at production speed? Or perform a half cutting of the latest generation substrates, directly in the machine? Tests performed on printing machines have revealed that the solution may be the addition of a high precision cutting unit on the machine.
These systems are used mainly to increase the speed of the machine by cutting the silicone coated side to rewind it with the scrap, reinforcing the latter.
The difficulty that classic systems are facing today lies in the cutting of substrates that become increasingly thinner. "In our opinion, simple and precise solutions can make it possible. You don't need an unthinkable machine to get a good job, but the precision of the mechanics is enough. The development of the market and the continuous introduction of new materials such as recyclables, put new challenges and a continuous need for adaptation. A consolidated and proven mechanics over the years is the best assurance to have the effectiveness you are looking for", comments Fabio Aimi, Sales Manager and third generation of De Rossi Vittoriano.