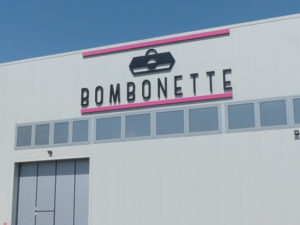 In the heart of the Emilia-Romagna countryside, an almost hidden silently company brings together a combination of experience and passion. This has been able to make it not only the undisputed leader of its field but also a point of reference for all those companies which aim is the excellence and uniqueness of the product as essential values ​​of its business.We are talking about Bombonette Srl, a company that made its packaging and its countless variants, distinctive elements in the international pastry and ice cream field.The specialization and the need to support digital evolution have prompted the company to introduce important technologies in its production, relying on B + B International for the introduction of an automatic cutting and creasing table with board feeder and stacker like Kongsberg C64. To find out what needs and variables led Bombonette to choose Kongsberg and its automation system, we talked to the owner Fiano Setti who welcomed us in his office to tell us his story and his strategic choices in a mix of values ​​where humility, correctness and tenacity are the cardinal principles that have guided the company for almost 30 years.
FACE TO FACE WITH FIANO SETTI: THE OWNER OF BOMBONETTE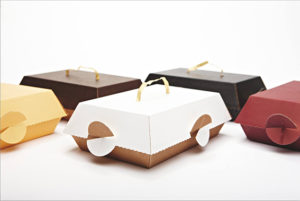 The founder of Ondulati Panaro has helped many other companies to establish themselves in the world of converting paper and in 1993 Bombonette was one of those challenges he decided to take almost by chance. Since 2000, attracted by his intriguing product, which convinced him to devote himself completely to it, he pushed the company to incessant growth with the aim of leading it to a great momentum thanks to the help of the new important investments. The company that currently has 3,700 active customers, 7% of them are European and American, is worldwide recognized for its unique product: "bombonette" patented 25 years ago with its unmistakable interlocking closure and for the immense variety of articles (1,600). With 50 employees that reach 70 during peak periods and 90 agents throughout Italy, the company can now count on a number of key figures including Heads of Area, Accounts, graphic designers who work closely with the sales department and production workers. The partnership with B + B dates back to 2016 when Bombonette decided to include the technical office in the company to carry out the sampling internally to support the sales team and increase the quality of service to customers.
Why did you decide to produce the sampling internally and what technologies did you rely on?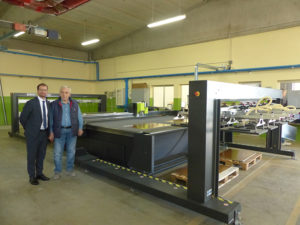 "The plant of Camposanto sul Panaro has 2 automatic TMZ die-cutters and a platen press, 2 offset printing machines for folding carton of Roland 160×120 and KBA 140×100 6-color as well as a folder gluer that works in two workshifts. The sampling instead was outsourced.The main motivation that led us to consider making the sampling internally was dictated by the waiting times that separated the order request from its confirmation. Thanks to the introduction of a Kongsberg V20, 1,680 x 1,270 mm, and of the ArtiosCAD structural design software, we were able to introduce a real technical office, improving considerably our way of working".
What was the result of this choice?
"We found greater customer satisfaction thanks to the rapid time frames we were able to offer. The daily customer is really impatient, he needs to have immediate answers and we need to be able to guarantee him a qualitatively superior service controlled by the concept to the delivery.Our graphic design department, which previously limited itself to performing a graphic verification, now it carries out the structural project, presenting it to the customer with a draft of the 3D sample with ArtiosCAD which, thanks to its verticality, has allowed us to speed up the processes by focusing on continuous innovation of product. The immediate communication between ArtiosCAD and the Kongsberg table has also opened the way to a new way of managing negotiations with the customer, presenting the physical sample on the same day and giving us the opportunity to fulfill the order more quickly".
Why did you decide to buy an automatic cutting industrial table?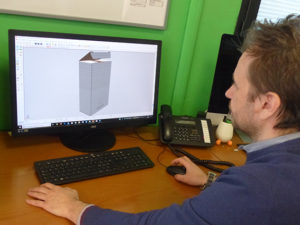 "The market needs have led us to evaluate the various technologies on the market as it was no longer possible to continue to make small order quantities using a traditional die cutter. Many of our customers who order large structured orders that we carry out in offset, they have in their range of products, some size boxes less requested than the standard ones and who offer in smaller quantities, from 300 to 500 pieces a year. This type of requirement that we first satisfied through warehouse stocks, now with a just-in-time approach, we succeed in realizing it producing 100 pieces in a very short time, without the need to weigh down the warehouse but sending them in 24,48 or 72 hours according to the distances.Up to 500 pieces the convenience of a cutting and creasing table is indisputable.Thanks to the Kongsberg C64 with a size of 3,200 x 3,200 mm and its automatic loading and unloading system that allows rapid cycles of goods handling, it is possible not only to produce small runs with all types of materials for packaging & display lightening the die-cutting phase but also the special processing of discs and trances on elements such as cake and sub-port, enhancing the value of the product thanks to an excellent finishing result.Two objectives that we would not have been able to achieve without a technology like Kongsberg: load and unload feeders improve productivity and reduce operating times. There are no delays in loading the sheets on the plotter, which can therefore be used 100%".
What type of criteria have led you to choose Kongsberg and B+B as a strategic partner for your digital transformation?
"B+B and I came into contact 3 years ago with the internal technical office. Their specialization and expertise and their assistance service convinced us to evaluate their offer also for the introduction of a production machine such as the Kongsberg C64 table. B + B offers us a solution and not just a product in the strict sense, starting from the analysis of our needs and supporting us during the work.Having had the opportunity to test the cutting quality of Kongsberg thanks to the sampling plotter, we believe it is a valid product with unparalleled precision cutting and creasing. Thanks to the composite carbon traverse, which guarantees high precision at maximum speed, we relied on the Kongsberg C64 because it can ensure higher productivity and higher quality. The automation of design and start-up operations, together with the use of a power supply and an unloader, make the entire packaging, boxes, cakes and ice-cream production process optimized, error-free and, above all, more reliable".
What are the future plans for Bombonette?
"We have several projects in mind. We would like to be able to expand the company through a new factory with production lines dedicated to the manufacture of plates and glasses in biodegradable PLA, a material that we believe can be an interesting substitute for plastic.Furthermore, we would like to break down the peak periods, managing to level the production in a linear manner by creating new industrial products that can also make those temporary workers that we use only in periods of high concentration such as Christmas, Easter and August and after than we can hardly find again in the following period.In B + B we found a trusted partner and we would like to be able to support us even in software automation and in future projects that are never lacking in Bombonette".