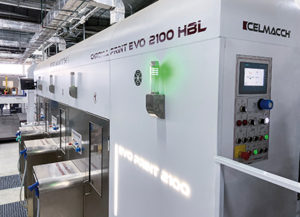 Celmacch recently installed another Chroma Print printer at the Arkhbum Group, one of the largest and most innovative cardboard producers in Russia.
A 2100 x 1300 Chroma Print EVO was installed, which feeds an Asahi flatbed die cutter.
Arkhbum JSC, part of the Arkhangelsk Pulp and Paper Mill JSC Group, produces one billion m2 of product per year. By 2020 Arkhbum's Voronezh branch aims to produce 188 million m2 of finished product.
The group invested in a Fosber corrugator, a Bobst casemaker, a Marquip WardUnited line, a Mitsubishi casemaker and a Celmacch printing line, which works in line with a flatbed die cutter from Asahi.
The factory is extremely modern with the highest degree of automation in every respect: all internal movement runs automatically thanks to latest generation movement platforms. The corrugator, as well as the cardboard converting machinery, was chosen to ensure the highest level of productivity and automation.
The Chroma Print printer chosen by Arkhbum Voronezh is a 2100 x 1300 three-colour machine, capable of reaching speeds of 10,000 sheets/hour.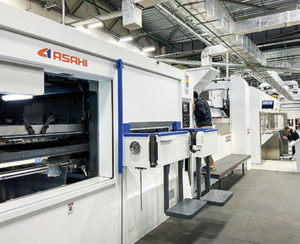 Equipped with the most advanced technology, such as closed-chamber carbon-fibre doctor blades, the machine offers very high performance, both in terms of quality and operation.Printing precision is ensured by direct motor technology thanks to an independent motor per each shaft.
Connection to the Asahi die cutter takes place via telescopic vacuum transfer, specifically designed to work together with the Asahi AP-2100 L lap feeder, the top-of-the-range Asahi model which provides a maximum speed of 7,000 sheets/hour.