The new global hub for innovation aims to be the place where different talents can develop and share ideas and projects for Industry 4.0 – All4Labels is opening its Center of Excellence (CoE) in Salerno.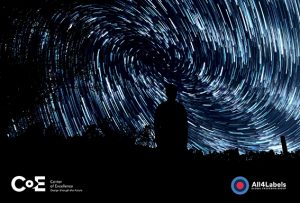 The new Center of Excellence aims to undertake new R&D investments over the next 5 years, totaling approximately 3 million euros each year. The new hub will be an open ecosystem, designed to promote and support innovation both inside and outside of All4Labels, strengthening the company's leadership in the market and seeking to become a model of growth for all companies.
AI, IoT and biomimetics will steer co-development for new interactive and functional packaging solutions. The aim is also to achieve a higher level of digitization, leading to the creation of new business models that have the potential to inspire labeling and packaging sectors worldwide.
"At All4Labels, mentoring and developing talents is and has always been one of our primary goals, enabling people to make a difference and be part of our DNA for success. With the CoE we want to equip and stimulate specialists to conceptualize, create and prototype the best and most sustainable packaging solutions, keeping in mind the needs of the consumer of the future," said Günther Weymans (COO) during the inauguration event. "We pursue excellence in everything we do, and the CoE is further evidence for that. All4Labels wants to succeed in being a pioneer in the industry, helping to boost innovation within Industry 4.0."
Consistent with the All4Labels philosophy, every single action at CoE will also be guided by respect for sustainability principles – one of the most important pillars of the company´s operating model. All4Labels rethinks labeling and packaging and innovates with a view to the circular economy. This includes considering different regional regulations on recycling, promoting dialogue, and sharing ideas with the entire value chain.