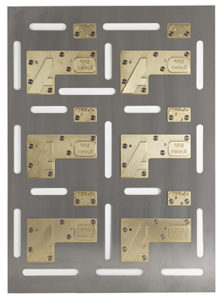 Albertin's porfolio is the hugest one in Italy concerning dies' production. The 3,000m2 factory is located near Milan, and here, every day, magnesium, brass, copper and rubber-stamping tools are created. Moreover, the 40 specialized technicians deal with flexo and printing plates, as well as the management of graphic files.
Since its foundation, Albertin has been involving in finding new solutions, not only to satisfy customers' requests, but also to anticipate them. From this R&D activity the company has made important investment in new technologies, such as the optical fiber laser to engrave very thin details on brass dies or the CTP flexo unit that can produce plates up to 1310×2000 mm and 4,000 DPI.
News presented at Labelexpo Europe 2019
During Labelexpo Europe 2017 Albertin surprised the public with In-line Flat Stamping Tool, a particular dies with which can be obtained up to 5 different effects (hot stamping, embossing, debossing, texture and holograms) in one single printing operation, and with the possibility to print anti-counterfeiting holograms without using 3D foils. At the next Labelexpo Europe Edition, Albertin will show a new product: Smart Register Plate (SRP) System.
Dedicated to labelers, on this steel plate are mounted all the necessary dies to composed a complex graphic, be they made of brass, magnesium or copper. In this way the register will be perfect in any flatbed or cylinder flatbed press. Furthermore, it is possible to change just some dies, for example the ones with the year's writing in a wine's label.
Positioned directly on the honeycomb through fixing systems, SRP System doesn't require any change to the printing machine, so it can be used in any plant and it makes machine time startup faster.