Finalists of 2020 edition of Oscar dell'Imballaggio, bags and placemats proposed by Adercarta Spa (winner of Oscar dell'Imballaggio for three consecutive editions 2017/18/19) look to the future, not only because all of us don't see the time to start again to be free to munch excellent street food, but because they are made of greaseproof and compostable barrier paper, therefore truly eco-friendly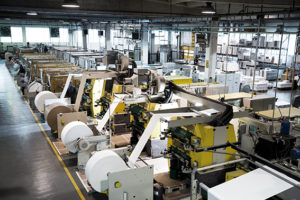 The history of Adercarta, which is based in Adro (Brescia), began in the late 1950s, when Eugenio Maestri founded the small bag manufacturer among the vines of Franciacorta together with his brother. Even today, after so much road traveled (creation of many absolute innovations, patents and awards, remarkable industrial development), despite the increased size and the developed international market (€ 16 million in turnover and over 60 employees), Adercarta has remained a family business, led by the second generation by three sisters Adelaide, Anna and Elisa who, together with Ennio and Attilio and the engagement of the third generation with Gianlorenzo, Matteo, Caterina and Gianluca, look ahead with pride, passion and lots of positivity, pointing on healthy and concrete values ​​of the family, on the wealth of a cohesive, compact and ultra-experienced group, on the congenital culture of "making" and on the obstinate search for excellence.
Today Adercarta can in all respects be considered one of the primary reference points in the Italian paper food packaging market with its five million bags produced every day. 3 factories with 22 bag machines and 5 paper converting machines are fully operational, all machines are certified and always up to date and for the most part dedicated to single formats. The company also has a warehouse of raw materials and two large, latest generation and mechanized platforms for finished products, in order to offer loyal customers the possibility to have always their product available and manage optimally their deliveries.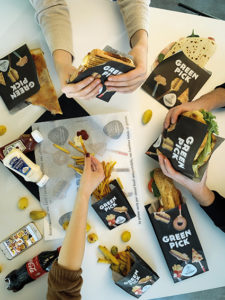 The avant-garde technological equipment, the flexibility of production, the consolidated experience of the staff and the deep know-how of the property and the loyalty to raw material suppliers (who have become real partners in 60 years), the spirit of collaboration and kindness that can be felt at every level (in & out), research and development on new materials and components, attention to new food styles, tireless design of increasingly recyclable and green products, deep knowledge of the market paper and paper mills, but also large and small Italian and European distribution, are the distinctive features of Adercarta: all this allows to respond promptly to any need and order, from the smallest to the largest, from the simplest to the most complex and personalized. Adercarta over time has become essential support and partner for customers of all latitudes and languages.
A lot of papers and formats: all certified!
Customers who turn to Adercarta can find a complete assortment of format paper and paper bags choosing from 120 formats and over 30 different types of paper always available. The raw materials used are all top of the range at European and world level, rigorously selected and certified: water and solvent-free inks, food glues, FSC and PEFC papers with long fiber of pure cellulose, total Aticelca suitability for food contact, recyclability and compostability, traceability, ISO etc.). In this way, this company located in Franciacorta, ensures a fast and flexible service, limiting the impact of packaging on the customers' warehouse and offering always and constantly the best in the world of food paper. Lastly, the high printing and personalization capacity of bags and papers (up to four colors), also managed on very small volumes, is an increasingly sought-after and appreciated quality on the market which, once experienced this alchemy of skills and availability, high quality and services, can no longer do without it.
Green Pick: greaseproof paper, beautiful to look at and easy to dispose of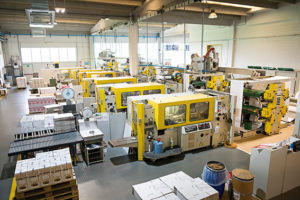 Designed for on-the-go consumption and for street food, Green Pick bags and placemat are made with greaseproof and compostable barrier paper free of fluorides, guaranteeing the advantage of being disposed of with leftover food. The Green Pick product series was developed with the aim of communicating a lot of information through an original and customizable graphic design.
"It is", tells Ennio Loda, CEO and true soul of this company, "a concrete response to the current lifestyle that has seen in recent years a steady increase in meals eaten outside home connected to a parallel increase of not-compostable and often not recyclable waste. Adercarta is traditionally careful to combine beauty and practicality, design and sustainability, therefore we have decided to invest in the development of a new type of food bags and papers: a complete set expressly designed for street food/fast food and takeaway food, where the wrapping consists exclusively of raw materials of organic origin and can therefore be disposed of directly in the wet waste together with food residues, or, if clean, in the paper collection".
Green Pick bags, available in a wide range of sizes, are a complete kit that also includes placemats in different sizes, suitable for all common types of food. They can in fact contain French fries, Ascoli olives, pizzas, kebabs, wraps, toasts, sandwiches, hamburgers and ensure total impermeability to fats, that is oils, sauces and liquids, always keeping your hands perfectly clean, also the innovative mirror print on the back of the placemats allows direct contact with all foods, including sauces.
"Unlike many traditional greaseproof papers, thanks to its totally organic composition, Green Pick is also a paper totally free of fluorides, thus ensuring greater healthiness of the food. Green Pick complies with sector regulations and is made with totally traceable and safe materials", concludes Ennio.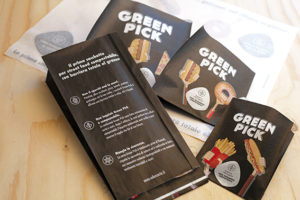 Luca Zurleni, commercial and marketing director, underlines that "at the end of their use, even by crumpling everything in the placemat, the bags can be safely disposed of in the wet waste so as to make ecologic and simpler the collection of waste in catering activities".
Thanks to special precautions, the paper complies with all HACCP regulations while being fully customizable in four colors. Initially proposed with a contemporary and metropolitan design, it can be freely customized according to the marketing needs of each customer.
"Of course, presenting the Green Pick project in such a delicate moment for our country may seem strange, today it still seems complicated to imagine ourselves as we walk among food trucks enjoying a hot pizza or French fries, but these simple moments that some time ago we took for granted, soon they will come back and they will be more beautiful than before", concludes Luca with a smile … and on this we all agree absolutely!