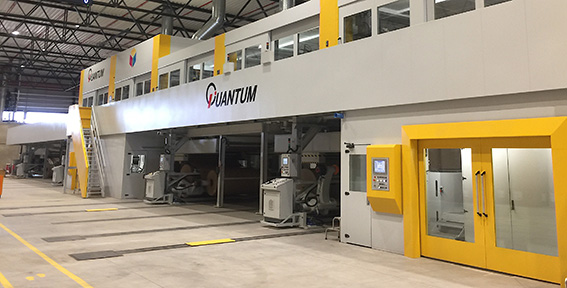 Patrick Dejager, CEO of  at Europal Packaging NV in Moeskroen, Belgium, has confirmed the start-up of a new 2.5m doublewall Quantum corrugator line in his new factory in Blandain/Tournai. Europal Packaging, which is part of the D.I. Group, offers a wide range of packaging services, from manufacture of paper honeycomb, angle protectors as well as corrugated board. Europal Packaging is active in various sectors such as automotive, pharma, industrial goods, telecom and electronics, frozen foods, E-commerce, E-retail, furniture and decoration.
The Quantum at Europal is able to produce all flutes and combinations from A, B, C, and E flute, including AA and BB Double Wall. Interestingly, the new corrugator has two Göpfert printing units integrated into the line, for printing on the outer liner. There is also a tape applicator and a Universal Fanfold stacker. The machine is able to produce from the lightest paper combination up to the heaviest doublewall, with a maximum sheet length of 7m.
Alberto Brivio, Managing Director of Quantum Corrugated, and Massimiliano Bianchi, President and Managing Director of Fosber Group are proud of this first start-up of a complete Quantum corrugator installed by the newly formed Quantum Corrugated.