A smart pack for a new diet plan: just in one box all you need for a week, perfectly dosed and weighed. It's the completely sustainable solution made for Riso Scotti brand.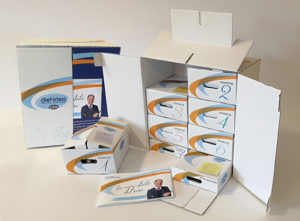 Smurfit Kappa Italia, leader on paper based packaging, has created the new innovative pack of Dietidea, the method launched by Riso Scotti that includes a complete range of products – aimed to maintain a good shape eating a balanced diet – packed, dosed and weighed in order to be ready for a precise consumption each day of the week.
Smurfit Kappa Italia designers, together with the customer, has created a monomaterial packaging totally in cardboard that includes a box where is placed a sort of "drawer" split in seven compartments – one for each day of the week – made with an handle, easy to remove as a real drawer where to find the different meals. The main box can be closed by using 2 removable flaps in order to transform the pack into a ready shelf and offer the customer a very easy unboxing experience but also with a great visual impact.
Thanks to the structure and the graphic design of the box, Dietidea kit is not only effective to be sold by the ecommerce channel but also in the shops like pharmacies and similar where it offers a good consumer packaging experience.
The kit has been designed and developed by Smurfit Kappa Experience Centre designers team using 3D technologies to offer the customers the most innovative solutions and a full service: from the needs analysis to the final product to obtain a more and more sustainable packaging.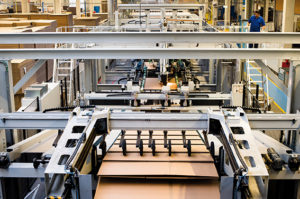 The kit has been produced in Massa Lombarda (Ravenna) plant, specialized in offset printed corrugated cardboard. One the plus of this kit is offered by the material: 100% cardboard, recyclable, biodegradable, sustainable. A monomaterial totally disposable even because the offset print is done avoiding harmful substances for the environment.
The new Dietidea packaging is an example of Better Planet Packaging project, launched last year and aimed to design and create innovative and sustainable solutions, alternative to plastic. An answer to the need of the ecommerce channel where the companies must be compliant with more and more strict rules, a field in which Smurfit Kappa can offer a wide experience also thanks to the support of 26 Experience Centre based in the 4 continents.