Because of Coronavirus pandemic many in-person gatherings have been cancelled: so Xeikon organized last April a socially distanced alternative to the usual appointment for customers and professionals, called Xeikon Cafè TV, two appointments about the state of the industry and novelties in Xeikon's digital printing technologies. The first, the one we followed, was dedicated to label and packaging segment, the second was focused on graphic industry and commercial print markets.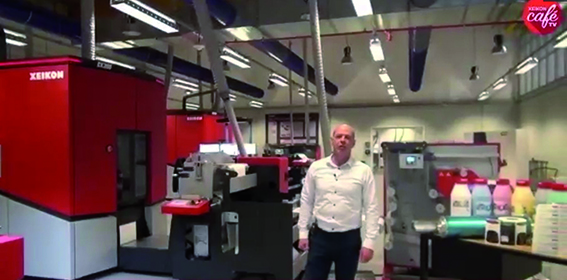 Mark Hanley, President, I.T. Strategies (a Boston based custom consultancy house serving the digital print vendor community) described the Coronavirus perspective:  50%+ of pressure sensitive labels support essential food supply chains, as a consequence early packaging industry reports suggest a relatively lower impact of Coronavirus on companies activity; local & online delivery have a relatively larger share of supply chains right now, potentially favoring digital; exiting the crisis all print markets will favor more local, low scale on-demand supply, which will relatively favor again digital print, and its greater capacity utilization. Digital labels are a value positioning of technology which contribute elevated profit at lower volumes and enable new market/customer development. This doesn't mean a complete A2D change, but it is value re-balancing within the business model to the favor of digital against analog.
The technological centerpiece of the webinar was the new Xeikon CX300 digital label press, an innovative solution that keeps both label converters and their brand owner customers at the forefront of a rapidly evolving industry, because the machine delivers exceptional application versatility, designed to achieve the highest possible OEE (Overall Equipment Effectiveness) and is even more productive than the very successful Xeikon CX3 first generation of Cheetah presses.
During the meeting spoke also Pat McGrew, managing director at McGrew Group, McGrewGroup based in Aurora, Colorado (USA) helps printing and communication companies, agencies and the brands they serve, leverage in the best way all communication channels. The title of her presentation was very promising: What comes next, preparing for growth.
"To grow your business requires change. Flexibility will be the key to growth, so getting the entire team onboard that there will be change is essential. Remember that change and transformation are also two different things, so everything you read and hear about Digital Transformation and Business Transformation it is ok but there is no transformation without 'feet on the ground' change of processes. To grow your business, especially now in this Coronavirus times, you will need to plan for both change and transformation", said Pat. And there is a big difference between Change that implements discrete initiatives and Transformation, an iterative approach to reinvention.
The path to successful transformation requires plans for assessing current state, change and re-assessment on an on-going basis. "There are no excuses… because you will need course corrections", underlined Pat. The path to change requires a lot of work: adoption of standards that incorporate industry and company best practices¸ development of scalable processes, tools, and templates; identification of career paths, training, and qualifications and clear oversight of project performance with accountability.
The hurdles on the growth path can be many and very different, but generally speaking only 41% of organizations implementing change fully met objectives, because 44% missed at least one objective and 15% missed all objectives or aborted. The obstacles are lack of executive support and active sponsorship; inadequate change management buy-in and resourcing; resistance and lack of support for the specific solution; change-resistant culture and organizational structure and lack of prioritization.