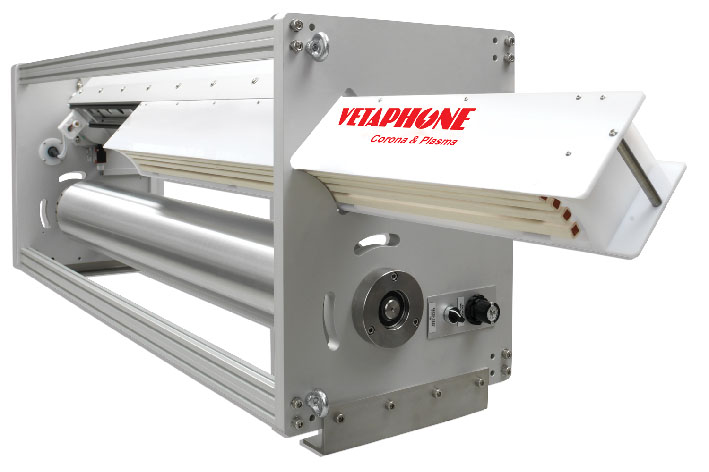 Vetaphone, will be exhibiting one of its Corona stations at the upcoming ICE expo in Munich.  The unit on Stand 754 is a VE1C-A, and is designed specifically for the high-speed printing and laminating sectors of the converting market on web widths from 1,000mm to 3,000mm (39" to 118").
A single sided treater, (it can also be specified as double-sided), the unit is available with ceramic, silicone, or aluminium roller coverings of 200mm (8"). Capable of treating a variety of substrates at speeds up to 1,600m/min (5,000ft/min), the unit has the option of ceramic, aluminium, or stainless-steel electrodes.
Like all Vetaphone units, the VE1C-A is easy to use and clean, with quick-change sliding cartridges, and is fully adjustable to ensure the perfect gap is maintained for accurate and consistent dyne levels.
Often used for re-treating batches of material that has a low dyne level, or whose dyne level has deteriorated in storage, the VE1C-A allows converters to operate their machines at full speed with a guarantee of stability and quality.