One of the UK's longest serving manufacturers of security and label stock coated products, Tullis Russell, has chosen to install Vetaphone corona treatment technology on its state-of-the-art production line in Bollington, Lancashire.  The commissioning has allowed the company to expand its portfolio of coatings on paper and film for complex specialist applications.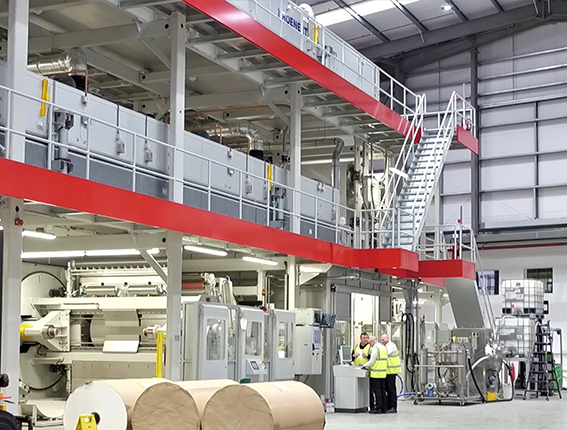 The company is closely involved with Kroenert, the leading German manufacturer of coating machine technology, with a plan to integrate advanced coating capabilities at the Bollington site.  A key element of the project was to ensure that any proposed solution gave Tullis Russell the flexibility to remain agile in the range of markets in which it operates.  The result was a Kroenert coating line that is one of a kind in many ways.  It's designed and built to handle thin films as well as high caliper board and apply thin aqueous coatings as well as thick and highly viscous coatings.  The system design is characterised by duplex coating that allows Tullis Russel to coat one layer on the front and one layer on the back, or two layers on the same side giving maximum flexibility.  In addition, the coating head's trolley design allows quick changes between five different coating technologies.
"After an intensive test with the Tullis Russel team in our Technology Centre we were able to define the best setup to ensure the success of the project.  Because the quality of the components was such a key issue, Vetaphone was the obvious partner to choose for surface treatment," said Markus Waterkamp, Managing Director of Kroenert.  One of the fundamental requirements was the ability to surface treat substrates accurately and consistently. Speaking for Tullis Russell, Sales & Marketing Director Mitch Lambert commented: "traditionally, we have worked with coated papers, but having the Vetaphone Corona unit has allowed us to expand our portfolio into developing coatings on films for specialist, complex applications.  The ability to treat our own substrates now gives us the flexibility to produce constructions that would otherwise have been a challenge to our supply chain team".
The Vetaphone equipment installed at the Bollington plant is a VE-1E-B treater unit with an iCorona 4 generator capable of supplying 24kW of power to the 9 finned electrodes.  What the company specifically appreciates about the Vetaphone unit is its functionality.  The automatic watt density based on web speed allow to maintain consistent treatment levels whilst being operationally efficient and speeding up the product development process. Other features such as the pneumatic engagement make it much easier for the operators to web through the device and set engagement at a speed of their choice.
Today, Tullis Russell produces a range of coated papers and PP and PET films for a variety of markets, some of which have security features built in. Production at the plant stands at around 30 million linear metres a year. "Working in partnership with our customers we develop innovative functional coating solutions for a variety of paper, board, and filmic applications by combining state-of-the-art coating capabilities with inhouse technical expertise and an extensive network of suppliers", Mitch added.
"To be acknowledged as a leading supplier of surface technology by a top notch OEM is great testimony to the quality of our expertise and product range and to work in partnership with such a well-established and respected supplier as Tullis Russell is a double bonus for Vetaphone and its people", concluded Kevin McKell, Vice President Technical Sales at Vetaphone.