Born in 2019 from a great experience in the world of labels, today this start-up based in Macchia di Ferrandina (Matera) faces the challenges of the market with an extra gear thanks to the recent acquisition of the OMET iFlex 370, proposing itself as a supplier of labels of quality and sustainable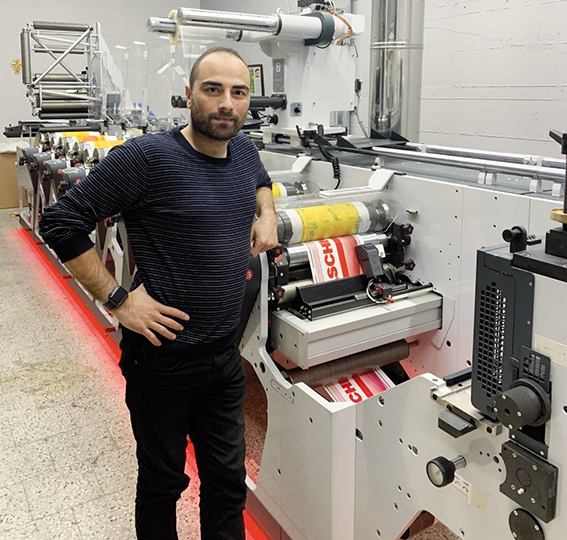 Starting a new company is never easy, especially in southern Italy, but Benedetto Auletta, founder of Future Label, had no doubts about getting involved and face new challenges, because labels are a family's passion, "my dad Giuseppe has printed labels for 30 years, and it was probably the first company to provide this service in southern Italy, of those times I remember the satisfactions and the great effort: however, the time had come to change, and thus taking advantage of the Rest in the South project, an incentive to support new entrepreneurial activities started by young people under 36, I founded Future Label, naturally with the precious support of my dad ", Benedetto tells us.
Benedetto wants to focus on innovation and sustainability, he is convinced that the label sector is only set to grow in the future, "because everyone needs a label, for example here in our southern regions there are many producers, especially in the food and wine sector that offer excellent products, which have every right to equip them with a beautiful label that can make them stand out on store shelves; we can make all types of labels in paper, recycled paper, polypropylene, cardboard, eco-sustainable supports, with various finishing, we also supply them to pharmaceutical and car parts industries, since we can also print on the back of the label".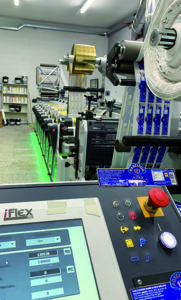 To offer labels as sustainable as possible, (in fact it is not possible to produce a label that is 100% sustainable because there is no completely ecological glue on the market), Future Label uses recycled paper with which it manages to obtain semi-glossy effects thanks also to the fact that most of the plates used are supplied by D&D Flexo Italia in Pomezia, which uses Kodak Flexcel NX plates and technology, and therefore the print quality obtained is very high. Some customers, on the other hand, want the opaque effect given by recycled paper. The inks used are only low migration inks. Benedetto is very attentive to the novelties, in fact when a new product comes out it is tested in the company and if the results are satisfactory it will be used for production.
A dream comes true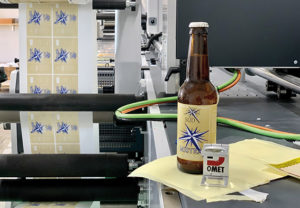 "Having an Omet machine has always been my dream, the print quality and precision are absolutely unique for us, I could almost say that Omet machines are the Ferraris of the label sector", says Benedetto.
The machine installed is an 8-color iFLEX with web turn bar, in-line lamination, cold foil and plate mounter, the machine is a narrow band (370 mm) equipment and the maximum speed is 190 m/min, with the possibility of using flexo UV printing, with in-line rotary die cutting (die sizes from 8″ to 24″). It produces self-adhesive and wrap-around labels. Suitable for short and long runs, for its ease of use it is ideal for those who want to enter the label market and for those who want to enhance their fleet. It is compact but ergonomic and therefore easy for the operator to access; it has a short paper path and allows to have a minimum waste at start-up. It is equipped with the iLight system for pre-registration with laser pointer on each printing unit. The laser indicates the ideal alignment of the plate holder, allowing a faster job change and an acceleration of the registration times. A second laser, placed perpendicular to the die, ensures rapidity and efficiency in changing the die's magnetic sheet without errors.
iVision is the instant print register adjustment system which, thanks to the use of cameras on each printing unit, allows the registration in real time of each color as the material advances, checking the image on the appropriate display. iLight and iVision drastically reduce start-up times and waste.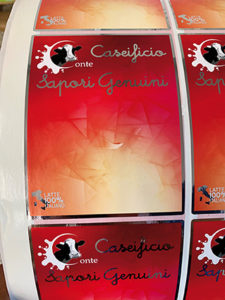 OMET iFlex ensures higher print quality than the standard thanks to an innovative concept of direct transmission without gears: iDrive increases the precision and eliminates the criticalities given by traditional transmissions, eliminating the possibility of strikes.
"We chose this machine for its incredible print quality and its versatility: we can change every color in real time, make tests and remake them, the management is excellent, easy and intuitive. We can print labels that seem to be made with Pantone colors, instead we use 4 color printing, and the register is perfect; we also have two Japanese machines in the company, which we still use, one with flat die-cutting and the other dedicated to hot stamping", says Benedetto.
Graphic studies and technology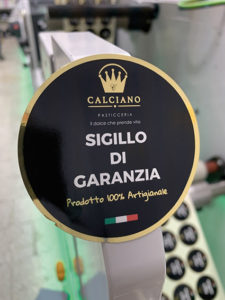 To create a beautiful label, it is not enough to have a good idea and a machine that prints well, it is necessary that creativity meets technology. "Often we manage to establish a direct relationship with creative agencies and graphic studios, to find together the technical solution that can best achieve the projects, only in this way can we establish the real feasibility of a design: integrating our printing experience , the graphic skills of creatives and designers and the absolute print quality of OMET iFlex we are able to give our best", affirms Benedetto.