A wide spectrum offer that starts from prepress products and technologies to serve the customer right up to the start of printing process. With the exception of inks and printing machines, Simonazzi is practically a global technology partner for flexo industry with dedicated training and consulting services: the company wants to help customers to achieve quality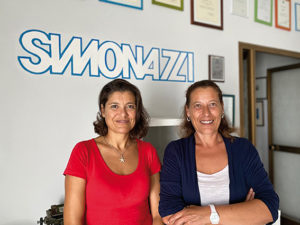 With the last two representatives acquired by Simonazzi, the companies that have entrusted the historic Milanese retailer for the marketing of their products for flexo printing industry rise to 14. Although to tell the truth, the retailer name does not suit this family business, today managed by Luciana and Manuela Simonazzi with the help of a highly experienced manager such as Enrico Albani and a team of expert and qualified technicians. Simonazzi has always focused on the training of internal staff, in order to be able to present itself on the market not only as a products and technologies reseller, but to offer a consulting approach that has in fact transformed the company into a real highly qualified partner for all prepress and printing needs.
A complete offer for prepress and flexo printing needs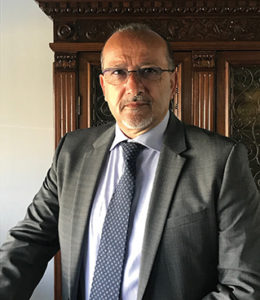 "With the last two representatives acquired, Esko and Sandon Global, we propose ourselves with a products and solutions package capable of accompanying our printer customer from prepress to the printing press", tells us Enrico Albani, who then continues by taking stock of the situation on the latest installations carried out, despite the Covid-19 which  originated also for Simonazzi a decrease in sales on production systems of about 30%, "we had several projects in the pipeline that were slowed down as it was obvious by Coronavirus emergency. While we have not encountered particular difficulties on consumable products, especially with customers specialized in food and pharmaceuticals, from the point of view of technologies we managed to complete some installations of Vianord systems as well as lasers for cleaning the anilox by TegTechnologies and automatic plate mounting system by jmheaford".
Sandon: excellence in anilox production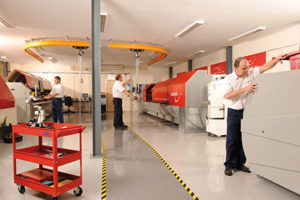 Sandon is a high quality anilox manufacturer, with a wide range of products for flexo industry, dedicated to both narrow web for labels and wide web for flexible packaging and corrugated cardboard. Sandon is also present in the coating sector, with a patented system to apply tactile paint. In addition, the company has a range of products for tinplate printing (production of cans), a sector in which Simonazzi wants to deepen its skills. This type of printing in Italy boasts a long history especially in Parma and Naples area, two strategic areas for canning industry, one of the reference markets for tinplate cans that are printed both in offset and flexo.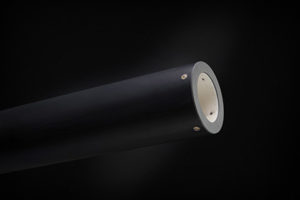 "We visited Sandon's UK office with Luciana Simonazzi and we were amazed by the organization, the production processes efficiency and the extraordinary quality of the products made, which undoubtedly is related to the fact that no necessary component for production of anilox is purchased externally, including the ceramic of the coating so as to have total control over production costs. Producing the ceramic for anilox in-house is not a factor to be underestimated as it means having control over the powder and consequently over the porosity, which is the ceramic weak point. Sandon guarantees a tolerance of less than 1%. Finally, in addition to the products in the range,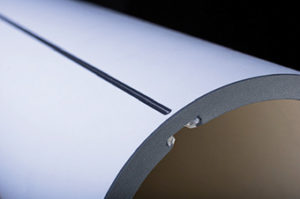 Sandon is available to customers for the study and production of products on specific requests", adds Albani, underlining how this is a family company with all its advantages in terms of timeliness in decisions and in responses, which has received multiple quality awards from the flexo industry, both in the US and UK.
Simonazzi expands its prepress skills with Esko
The other important change concerns Esko CtPs representation, thanks to which Simonazzi adds skills in the prepress phase. Two internal technicians attended a course in Germany at the headquarters where the CtPs are produced, acquiring those skills that are essential to support the customer, knowing well that behind there is always a great company that never lacks its support.
Laser anilox cleaning, an important investment which, if used correctly, allows significant savings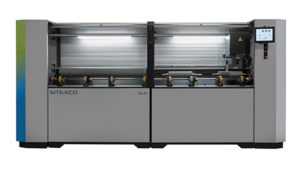 Another product on which Simonazzi is focusing a lot and which has aroused considerable interest on the market, is laser anilox cleaning. "Sitexco by TegTechnologies, the one and only 100% eco-compatible system with the environment, is our proposal in this field where there are certainly reserves regarding a technology that has an important cost, but which as confirmed by the two companies where we have installed it, the return on investment will be achieved well ahead of schedule. Initially purchased to carry out occasional cleaning cycles, printer customers have instead started to use it constantly, at each job change, so as to have a machine always running, which allows them to have perfectly clean aniloxes ready for a new reprint" adds Albani.
The system is 4.0 and with a dedicated program can interface with the company management system, providing accurate work reports but above all feedback on cost savings which is of fundamental importance, making an auxiliary system a real production machine.
ITP, McDermid plates for high quality
ITP (In The Plate, flat top dot directly in the plate) is the top of solutions range by MacDermid Graphics Solutions, a product dedicated to high quality printing for all the reference markets of flexo: labels, flexible films, paper and corrugated cardboard, for the latter sector there is a dedicated "super soft" product (22-24° shore) which guarantees perfect printability even on low quality corrugated cardboard, thanks to its softness which allows to increase the printing pressure without compromising the wave structure of the cardboard and therefore its mechanical resistance. "We have multinational customers in the corrugated industry who, when they have to print under certain conditions, specifically request their prepress services to use MacDermid Graphics Solutions ITP Melo plate", says Albani.
In the flexible wide web packaging, the ITP Epic was launched, made up of two coupled photopolymers, one softer in the lower part that softens any beats of the machine and a harder one at the top able to guarantee the perfect transfer of the ink on the substrate, with perfect shades even in the smallest dots.
"It is important to remember that all MacDermid Graphics Solutions plates are processable with both solvent and thermal technology, therefore the plates of the American manufacturer's range are absolutely identical, regardless of the development process that will be used and this is very important as it doesn't require the customer to have a double warehouse", Albani specifies.
Vianord
The bond between Simonazzi and Vianord is stronger than ever, and today in Italy there are 9 fully automatic lines for the development and finishing of plates, 5 semi-automatic as well as about 25 stand-alone systems, which Simonazzi's technical staff follows from installation and set-up to assistance, which thanks to 4.0 are remotely controlled. "We are able to monitor the machines remotely, both from a production point of view, providing detailed reports to the customer, and for the six-monthly scheduled maintenance, so that when our technicians go to the customer, they already know which parts must be replaced, thus reducing intervention times", adds Albani.
JMHEAFORD automatic plate mounts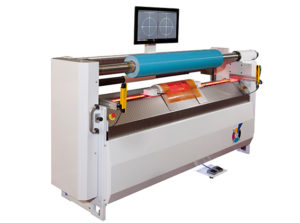 Three machines have been installed by Simonazzi in Italy as regards JMHEAFORD automatic plate mounting systems, one for narrow web and two for wide web by major printers both in terms of volumes and quality. These fully automatic systems allow you to mount 8 plates in 4 and a half minutes, which is an exceptional timing for the industry. The investment is not insignificant and therefore places these systems in high end market.
The partnership with BFT Flexo, BFT Carbon
During the last edition of ICE Europe in 2019 we witnessed the formalization of the collaboration between BFT Flexo (inking systems) and BFT Carbon (carbon doctor blades) and Simonazzi. "The carbon doctor blade chambers with blades in polyester blends make these components extremely safe for the operator but also and above all for the anilox which is preserved over the time. These are also highly performing products and we see that several printers, who have not only stopped in front of the price, have been able to appreciate the added value of these solutions. In addition, these materials match perfectly with water-based inks, facilitating cleaning and avoiding those dangerous turbulence that can occur in the doctor blade chamber due to corrosion, compromising the quality of ink application. Great satisfaction also with regard to inking systems, for which BFT Flexo has developed a cost calculation model, putting customers in front of numbers that are incontrovertible and which guarantee a return on investment in a very short time", concludes Albani.