Ritrama relaunches with conviction Core Linerless Solutions®, a self-adhesive film that through a special converting process becomes a linerless label, ready to be applied, increasing efficiency and environmental sustainability, because it eliminates not only the liner but also the waste, giving label manufacturers the possibility of really changing and being more sustainable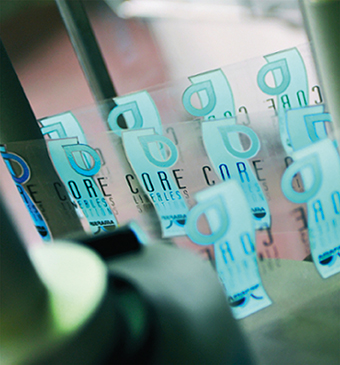 Founded in Italy in 1962, Ritrama, a leading Italian multinational company, is the leading independent manufacturer of self-adhesive materials in Europe and one of the world's leading players. With over 1085 employees and 20 offices around the world, it is considered the largest family-run company. Ritrama offers a wide range of products grouped into 5 divisions – Roll Label, Graphics, Offset Sheets, Industrial and Polifibra – with production units and R&D centers in Europe, America (North and South) and Far East, as well as a very modern centralized logistics platform at Caponago Headquarters (near Milan). Ritrama products are used in many highly specialized or commodity sectors including visual communication, labels for food, wine and pharmaceutical sectors, offset and screen printing market, labeling for industrial applications and anti-counterfeiting. Ritrama group boasts a widespread network of distributors present all over the world to guarantee locally a "just in time" delivery of products.
Core Linerless Solutions: the technological platform that transforms the liner into a resource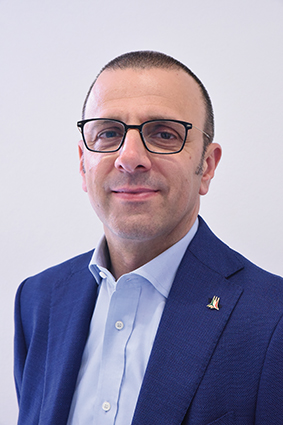 Linerless technology has struggled to take off, as those who tried to propose it, offered in most cases exclusively the linerless product itself; without thinking about the technology that gravitates around. Linerless labels need an entire well-designed and developed ecosystem: and this is exactly what Ritrama is proposing. "We previewed Core Linerless Solutions (CLS) in 2103 and, since the market immediately showed interest, we continued to develop not only the product but a complete technological platform able to let understand and use the product in a totally autonomous way. We realized that it was the only possible way to make the most of this innovative product. It was not easy to find the right partners, but in the end we succeeded: with the support of Omet, Spilker, and Ilti, who designed the linerless dispenser, today we offer a complete technological platform that allows converters to adopt this innovative technology and produce linerless labels", explains Sergio Veneziani, Product Manager Core Linerless Solutions.
The basic idea is simple: to transform the liner, that is a component of the self-adhesive material historically destined to become waste, in an element that acts as a lamination, becoming an integral part of the label. Almost a magic that eliminates waste generation, so the label will already be laminated with all the consequent advantages, but without the need for an extra laminating process.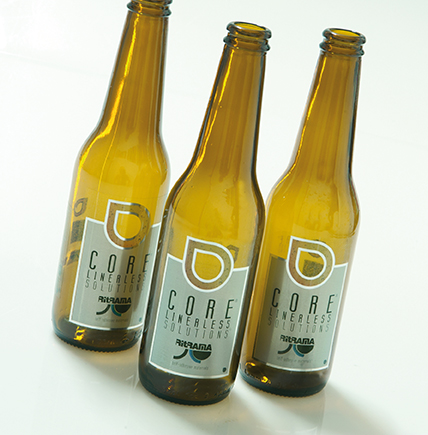 The work done so far in collaboration with Omet and Spilker has given rise to a real platform. Inside the lamination module developed by Omet, specific for linerless materials, the self-adhesive material is de-laminated and managed by a precise tension control; the smart liner is hot laminated onto the printed layer, thus becoming an integral part of the label and protecting the printed surface. Then the web of semi-finished, printed and laminated material passes to the finishing module developed by Spilker, a control table with die-cutting station, and with video camera inspection. It is important to point out that Spilker finishing module is suitable for both CLS technology and traditional pressure sensitive technology.
The future must be sustainable: the CLS technological platform makes it possible to combine sustainability and cost reduction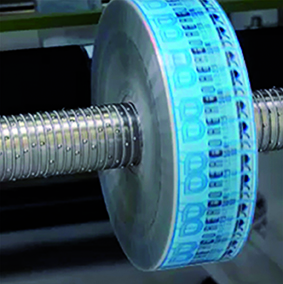 The positive wave that involves all of us, focused on the awareness that we must protect resources and reduce waste, is obviously affecting the packaging sector. The packaging design criteria are already changing and CLS is absolutely in line with this need; one of the advantages of this technology is not only the elimination of the liner but also of the waste: a concept that is very difficult to get through in an industry where for years waste has been considered as a side effect.
"In the label industry, eliminating waste from processing means obtaining huge savings, because it means reducing the cost of labels from 8 to 10%, in this way the label converters obtain an economic and environmental advantage: the waste, in fact, difficult to be recycled because it consists of many different materials (instead the liner is recycled with less difficulty because it is mono-component), can only be thermo-enhanced. If we add to this situation the fact that the bodies in charge of collecting and disposing of special waste have doubled the costs, the incidence is doubled for a label maker", states Veneziani.
"Unfortunately, label converters cannot be proactive because up to now they are not aware of CLS technology. In this way they continue to operate as they have always done. Only by making them aware that there is a technology able of combining sustainability and cost reduction, their way of working could be guided by a new approach, a new spirit and a new mentality. In Italy we have a certain resistance to change and certainly the fragmentation of our industrial structure does not help, but everything is possible, if you just want to do it: CLS technology can really be the solution to combine sustainability and cost reduction", concludes Veneziani.
Currently Ritrama is developing an important CLS project with a multinational company operating in the beverage sector, and most likely the official announcement will take place during the next Labelexpo in September.