Last february we participated in a fabulous open house at Schelling, a Swiss cardboard packaging manufacturer, that installed in 2018 a digital press Landa S10 Nanographic Printing® press: the company hosted 40 guests at its  reinach facility where the machine is printing real production
SCHELLING AG, established in 1876, is a family-owned diversified business with a strong presence in both the commercial and the packaging markets. The company's headquarters are in Rupperswil and it has an additional five locations in Switzerland and Germany, and a workforce of 600 employees. SCHELLING offers a one-stop-shop for high-quality packaging and displays made of corrugated cardboard and solid cardboard, as well as print products, package inserts and labels.
The reasons behind the decision to choose Landa Digital Printing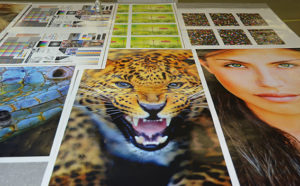 Following the strategic initiative "Sustainable Digital", SCHELLING is continuously developing and investing into digital solutions in – and outside of the supply chain.
The goal is to offer a unique, flexible and sustainable experience to customers and stakeholders. To achieve this the company invested into the digital press Landa S10 Nanographic Printing® Press, to extend its digital solution offering. The Landa S10 offers flexible and exclusive solutions, which open totally new possibilities.
As a family business and with the quality stamp – e³ – SCHELLING is striving to develop and implement solutions which benefit the economy, ecology und efficiency.
The Landa S10 follows this footpath and adds not only economy and efficiency (lower set-up time), but also ecology (low ink usage and water-based ink).
In its introduction speech at the event in front of customers, prospects and international press, Nicolas Shelling, marketing and sales director, explained the e³ concept: "Economy means cost savings; Ecology involves economic use of resources, reduced transport volumes, energy efficient and environmentally friendly production and full recyclability and Efficiency allows innovative construction and automatic erection which is integrated into the production process and so the required packaging is produced just-in-time".
Nachum Korman, Chief Commercial Officer at Landa Digital Printing, declared that the companies that decide to invest with Landa Digital Printing are real pioneers and for this reason they become partners and not only customers; also passion for technology and engagement  that customers find at Landa Digital Printing's site in Israel are an important element. Training is fundamental to optimize the potentialities of these solutions, for SCHELLING was not an easy task, but with help of Landa Digital Printing's technicians they succeeded in achieving amazing results: now the machine is in real production and the company won already an important prize. Last year SCHELLING participated in the Druck & Medien Awards for the first time and got the gold prize as "Digital printer of the year", the Jury was impressed by the print quality shown by Landa S10 on different substrates and grammages, from 40 to 650 g/sm.
Landa Digital Printing's approach and installations in the world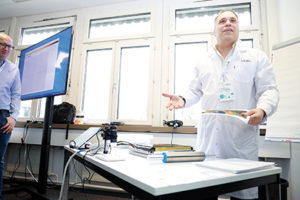 It's very clear that to replace conventional print technologies, new ones must at least match their capabilities to guarantee mainstream production: Landa Digital Printing machines combine the versatility and short-run economics of digital printing with the qualities and productivity of offset printing, Korman explained this concept: "Landa Digital Printing digital solutions assure the widest color gamut, sharpest images because of Landa NanoInk® colorants and for the same reason printing can be carried on any substrate without treatment; also the format is important, B1 is print industry's most common format; productivity is 6500 sheets/hour for Landa S10 to print folding carton, 3250 sheets/hour for Landa S10P for commercial printing and for Landa W10, flexible packaging, is 100 MPM".
Landa Digital Printing machines are naturally sustainable because they do not use plates and Landa Nanoink are water-based inks.
The Landa Digital Printing Group, headed by Indigo founder Benny Landa, includes four units: Landa Digital Printing, that develops and builds the machines; Landa Digital Printing Labs, the group's innovation arm, which explores nanotechnology for use in solar energy, automotive coatings, 3D printing and other fields; Landa Digital Printing Ventures, which invests in early stage companies with complementary disruptive technologies; Landa Digital Printing Fund, which promotes the narrowing of socio-economic gaps in Israeli society.
Landa Digital Printing also announced a new partnership with EyeC at the event. EyeC's renowned quality control solution, combined with an embedded Landa contact image sensor, enables the detection of print defects throughout the printing process. The new solution meets the needs of Landa customers across various market segments, for 100% inspection in their production workflow.
Landa Digital Printing has many installations all over the world. As regards Landa S10: in the USA they are six among them Virtual Packaging, Marketing Alliance; Grupo Gondi in Mexico; in Germany SCHELLING and Edelmann; in China ZRP and in Israel Graphica Bezael. For Landa S10P until now Quantum and Mercury in the USA, Groupe Prenant in France, Bluetree in GB and BluePrint in Germany.
The heart of Nanotechnology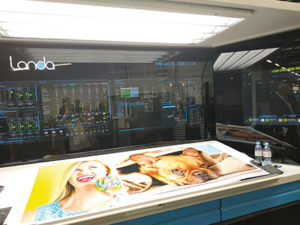 The unicity of Nanographic Printing process, also called Nanography, is absolute because differs from other printing technologies because it uses an innovative system and printing process that employs Landa NanoInk colorants, a proprietary water-based ink with nano-pigment particles that measure tens of nanometres in size. In comparison, good quality offset inks have a particle size of approximately 500 nm, at least ten times larger. In inkjet printing the jets transfer the image directly onto the substrate, instead Nanography first ejects the Landa NanoInk dispersions onto a unique heated blanket, and only then the ink is transferred from the blanket to the substrate in the form of an ultra-thin film. The droplets are ejected onto a blanket from ink ejectors that are mounted on print bars, the blanket is positioned 1-2 mm away. Each print bar prints a specific color. Landa Nanographic Printing® Presses are equipped with eight print bars and are therefore capable of printing up to eight different colors simultaneously.
Furthermore, the eight print bars can be employed for CMYK, spot or specialty colors such as white. On the occasion of our visit at SCHELLING we saw a practical demo of this ink deposition on a heated flat blanket: each ink droplet spreads immediately and very quickly loses its water, when all water is evaporated, the ink becomes an ultra-thin, dry polymeric film on the blanket. When pressed into contact with the printing substrate, this thin 500-nm layer of ink instantly bonds tenaciously to the substrate, but without penetrating it. In this way the resulting images are tough, abrasion-resistant, do not need post-drying and leave no residual ink on the blanket. During demo we could realize of it, because the printed image was really dry.
Afterwards the printed output can be processed with whatever finishing equipment. Blanket material is very special since Landa Digital Printing declares that its average life, obviously depending on substrate type, should be about 500,000 sheets.
No water, no treatment and brighter print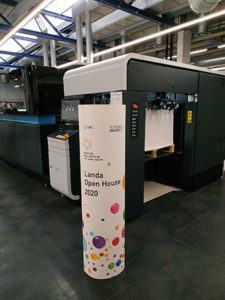 The process is innovative because nano-sized pigments absorb much more light than other pigments, and thus permits images with ultra-sharp dots of extremely high uniformity, high gloss and a broad CMYK color gamut, covering at least 15% more Pantone colors than offset printing. Since you eliminate the absorption of the liquid ink carrier by the substrate, the ink layer is very thin, allowing digital printing at very high speeds. Because of reduced absorption you can print on ordinary untreated paper stocks, whether coated or uncoated and on practically any plastic packaging film or label stock.