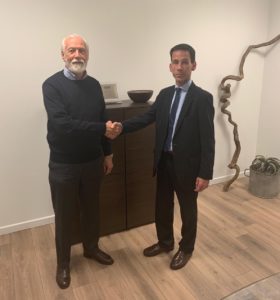 The leap towards globalization continues for Lombardi Converting Machinery, worldwide leader in manufacturing of modular narrow-band flexographic and hybrid printing machines.
The agreement was signed with Lapeyra & Taltavull, the most important graphic representation company in Spain. Founded 80 years ago to represent industrial machinery and facilities manufacturers, all of them as leaders in their sectors,
Lapeyra & Taltavull represents leading manufacturers in the label, flexible packaging, folding carton and corrugated board markets, including Codimag, Grafotronic and Windmoller & Hölscher and, in the past, the giant Swiss Gallus.
The Spanish company, with main offices in Barcelona and Madrid, focuses its activity in the sectors of printing and manufacturing of packaging (flexible, labels, folding carton and corrugated board) and its use in the pharmacy industries, chemistry, cosmetics and food.
The philosophy of Lapeyra & Taltavull is mainly based on providing and contributing to our market, taking part of the best existing technologies in the world of packaging and graphic communication. For this reason it has now wanted to include Lombardi Converting Machinery in its portfolio.
"A choice – said Xavier Heredia president of Lapeyra & Taltavull – which we shared after evaluating the high technology and reliability of Lombardi machines, which are already well present in the Spanish market."

"It is a source of pride for us – said Claudio Lombardi, president and founder of the Italian company – to have found such a prestigious partner in Lapeyra & Taltavull, which will allow us to turn to the large printing companies of the territory with our technology machines. advanced modular. "
Among the points in favor of the Brescia company is the modularity of the machines. This modularity allows the converter to have a wide range of options, such as hybrid flexo and digital printing, rotogravure, screen printing, embossing and hot stamping modules. In addition the in-line finishing systems, which allow printers to complete their lines according to the needs even in later times.
With this agreement Lombardi Converting Machinery once again demonstrates its international vocation, not with simply agents, but through strong representative companies consolidated in its own sector and in their own countries.